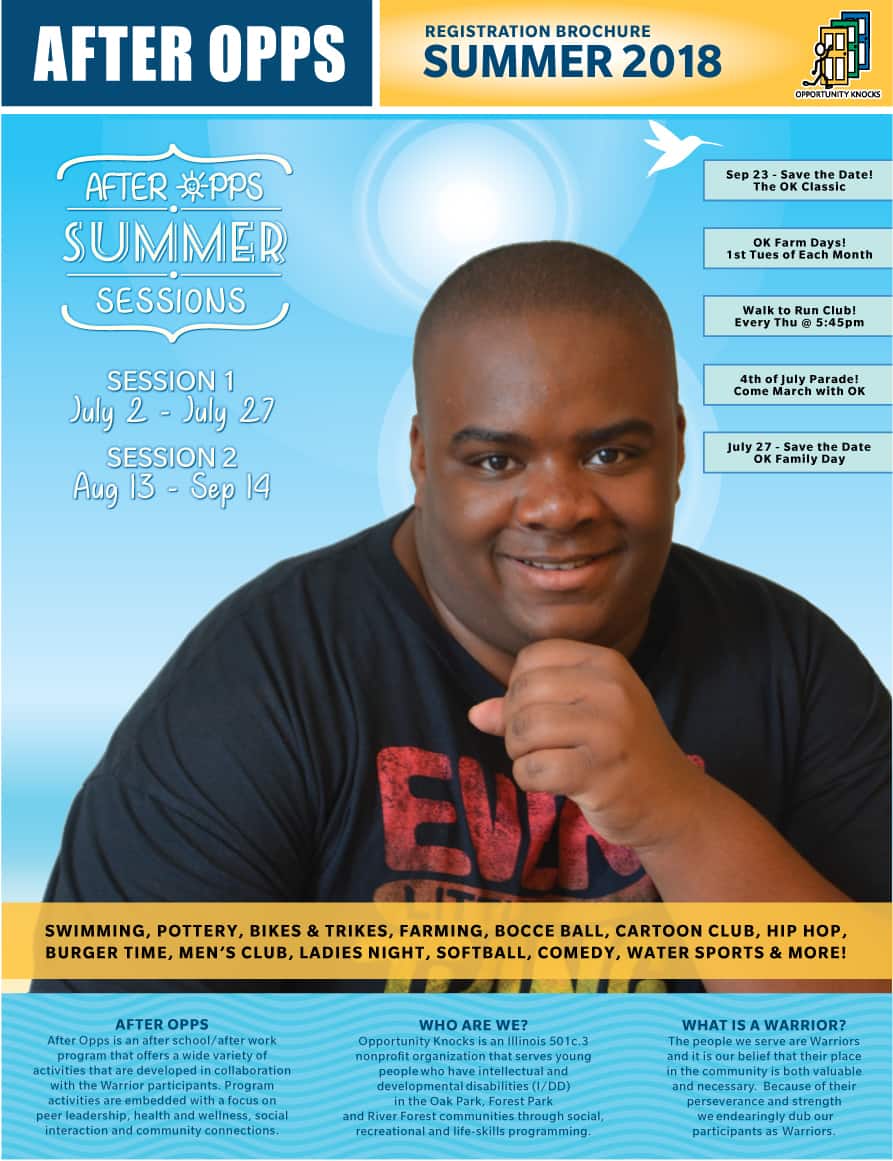 (Click Image to view and download full version of brochure)
Registration for the OK After Opps Summer Season, Sessions 1 & 2 is now open! See descriptions of activities being offered below. Please use the form on this page to register for either or both of these After Opps program sessions. Any questions or concerns may be directed to Mike Carmody by email at mike@opportunityknocksnow.org
For eligibility, registration requirements, session fees, daily structure, safety requirements or other information, see the After Opps homepage.

MONDAYS
SWIMMING 
Let's dive right in! With summer upon us, Warriors will enjoy time at the  Forest Park Aquatic Center and come back with a tan. But it's not all free time, great activities like water aerobics will be included too!  *Warrior Wellness
POTTERY
Warriors will learn hands-on how to make beautiful bowls out of clay with the help of some professional potters. They will learn all about the art of pottery and the process by which bowls are made!
PRESERVING
The OK Farm was a smashing success last season with a harvest of over 1,300 pounds of produce!  This abundance of veggies is the perfect opportunity to practice our blanching, canning and freezing skills.  Join as we take in the first crop of 2018 season and learn how to preserve foods after we grow them. *Warrior Wellness
CARTOON CLUB
There are a wide variety of cartoons in the world ranging from Japanese anime to Saturday morning cartoons. Join us as we explore the world of cartoons with the Warriors.
WEDNESDAYS
COMMUNITY OPPS
This session the Warriors will learn about a new community organization and complete a major service project for them.
ALL ABOUT ME
Warriors will be given the opportunity to get to know one another's personalities and life experiences.  They will also learn that everyone is special and unique in their own ways and no one is more important than the other.
BIKES AND TRIKES
Warriors will strap on their helmets and explore the great outdoors on two or three wheels. *Warrior Wellness
ANIMAL KINGDOM
Let the wild rumpus begin! Warriors will explore the Animal Kingdom as we study animal classifications, go on Safaris/Scavenger Hunts and tackle team games like Crab Soccer!
FRIDAYS
FARMING
It's peak farm season and there are lots of crops that need to be harvested, pruned, and planted! Warriors will continue to practice their farming skills and reap the benefits of all their hard work by enjoying some fresh, farm produce at Friday dinner. Lett-uce Turn-ip the Beet! *Warrior Wellness
BURGER TIME
It doesn't need to be beef to be a burger. Black beans, turkey, lamb, and more can be ground up into delicious patties. Warriors in this program will be grinding and forming their own burgers from scratch.*Warrior Wellness
HIP-HOP
Yes yes y'all! In this program, Warriors will explore the four elements of Hip-Hop (DJ-ing, rapping, breakdancing, and graffiti art) in preparation for a fresh and fly performance at this session's Family Day.
COMEDY
Why did the bird go to the hospital? How do you make an egg laugh? Check out this program to find out! Warriors will flex their comedy chops by studying famous comedians, learning the art of joke telling, and practicing their improv and communication skills!

MONDAYS
WATER SPORTS
As we get into the dog days of summer Warriors will enjoy fun water games outside at the park like water balloon toss and frisbee! *Warrior Wellness
MEN'S CLUB
Warriors in this program will let their masculinity shine. Topics covered will include card games, the history of wrestling, hygiene, and more! *Warrior Wellness
LADIES NIGHT
Come one, come all to OK Ladies Night where our Warriors will learn more about hair, makeup and how to dance the night away! *Warrior Wellness
HEALTHY DESSERTS
In this session the Warriors will be creating healthy desserts. Warriors will get hands on experience in creating treats that are not only tasty, but healthy as well! *Warrior Wellness
WEDNESDAYS
COMMUNITY OPPS
Warriors will continue serving various local non-profit organizations and establishing their presence in our community.  
BOCCE BALL
Warriors will dive into the world of the Italian sport known as bocce ball. Warriors will learn how to play the game as well as learn it's history and where it came from. *Warrior Wellness
PIRATE PARTY
Ahoy warriors! Come aboard the Warrior Pearl and join Johnny Sparrow and his first mates as they teach you about the Pirate Life.  We will conclude this journey by completing a treasure hunt. Arrrrrr you ready?!
PAINTING
Picasso, Monet, Van Gogh, Georgia O'Keeffe, and…OK Warriors! We are taking inspiration from the greats and will have our paint brushes busy on paper this summer exploring different styles of painting.
FRIDAYS
PIZZA
Warriors in this program will learn how to make several different kinds of pizza.  We will take a look at how this delicious food has evolved over time and from culture to culture. *Warrior Wellness
SOFTBALL
Batter up! The OK Classic is on deck, so Warriors will polish their hitting, base-running, and fielding skills in preparation for our annual softball tournament. *Warrior Wellness
FARMING
Warriors will be busy harvesting cucumbers, tomatoes, squash, and more summer crops on the OK Farm. Come enjoy the fruits of your labor (literally) while we harvest the last of the summer crops, as well as plant new crops for fall! *Warrior Wellness
<iframe id="JotFormIFrame-81648385284165" onload="window.parent.scrollTo(0,0)" allowtransparency="true" allowfullscreen="true" allow="geolocation; microphone; camera" src="https://form.jotform.com/81648385284165" frameborder="0" style="width: 1px; min-width: 100%; height:1494px; border:none;" scrolling="no" > </iframe> <script type="text/javascript"> var ifr = document.getElementById("JotFormIFrame-81648385284165"); if(window.location.href && window.location.href.indexOf("?") > -1) { var get = window.location.href.substr(window.location.href.indexOf("?") + 1); if(ifr && get.length > 0) { var src = ifr.src; src = src.indexOf("?") > -1 ? src + "&" + get : src + "?" + get; ifr.src = src; } } window.handleIFrameMessage = function(e) { var args = e.data.split(":"); if (args.length > 2) { iframe = document.getElementById("JotFormIFrame-" + args[(args.length - 1)]); } else { iframe = document.getElementById("JotFormIFrame"); } if (!iframe) { return; } switch (args[0]) { case "scrollIntoView": iframe.scrollIntoView(); break; case "setHeight": iframe.style.height = args[1] + "px"; break; case "collapseErrorPage": if (iframe.clientHeight > window.innerHeight) { iframe.style.height = window.innerHeight + "px"; } break; case "reloadPage": window.location.reload(); break; case "loadScript": var src = args[1]; if (args.length > 3) { src = args[1] + ':' + args[2]; } var script = document.createElement('script'); script.src = src; script.type = 'text/javascript'; document.body.appendChild(script); break; case "exitFullscreen": if (window.document.exitFullscreen) window.document.exitFullscreen(); else if (window.document.mozCancelFullScreen) window.document.mozCancelFullScreen(); else if (window.document.mozCancelFullscreen) window.document.mozCancelFullScreen(); else if (window.document.webkitExitFullscreen) window.document.webkitExitFullscreen(); else if (window.document.msExitFullscreen) window.document.msExitFullscreen(); break; } var isJotForm = (e.origin.indexOf("jotform") > -1) ? true : false; if(isJotForm && "contentWindow" in iframe && "postMessage" in iframe.contentWindow) { var urls = {"docurl":encodeURIComponent(document.URL),"referrer":encodeURIComponent(document.referrer)}; iframe.contentWindow.postMessage(JSON.stringify({"type":"urls","value":urls}), "*"); } }; if (window.addEventListener) { window.addEventListener("message", handleIFrameMessage, false); } else if (window.attachEvent) { window.attachEvent("onmessage", handleIFrameMessage); } </script>