"Midtown helped us find a way to get Warriors motivated and change the perception of exercise from being a chore to being more of a fun activity they want to participate in." Jeni Pierce, Health & Wellness Director
Midtown Athletic Club Oak Park is the recipient of the 2015 Key Award, which recognizes Opportunity Knocks' most outstanding community partner of the year. "They went above and beyond the call of duty," said OK Executive Director Michael Carmody.
The initial interaction with Midtown happened when the Life Shop toured and assessed several local fitness centers in the spring of 2014. That first time using Midtown's fun and accessible equipment and working with their friendly and passionate staff left a powerful and positive impression on both parties. The partnership grew wings from there.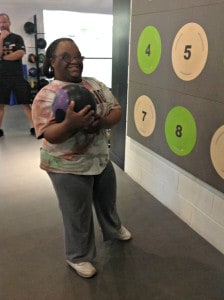 "We went in there for a visit and it turned into this huge relationship," said Carmody. "Their staff met our participants and it was kind of love at first sight. It was a very natural partnership between us and them."
Life Shop started going to Midtown once a week to work out on their equipment with their trainers. "They were incredibly accommodating," said OK Health & Wellness Director Jeni Pierce. "They were very positive, very energetic, excited and motivating. They always had something new for the Warriors to try out when we went there."
By utilizing their unique arsenal of equipment, Midtown staff designed high-energy workouts that made exercise fun and engaging through games and races. "The quality of programming was amazing," said Carmody. "They developed a lot cool workouts that helped our participants who may not be the most active people in the world be active for long periods of time. [Midtown staff] were very fresh, very innovative and open to anything and everything."
Some of the equipment used during sessions at Midtown included Pavigym censored walls and flooring, weighted rope, sandbags, hurdles, agility rings, Vipr weights, punching bag, vibration plates, and more. "Their equipment is not necessarily created for individuals with disabilities, but they found ways to adapt the activities for the Warriors," said Pierce.
When OK renovated their own fitness center this past winter, they put in new flooring and purchased many of the same pieces of equipment implemented in the new and exciting activities at Midtown. "We were able to determine what equipment worked best with the Warriors, how to use the equipment with them safely and effectively and how to get them to have fun and be engaged," said Pierce.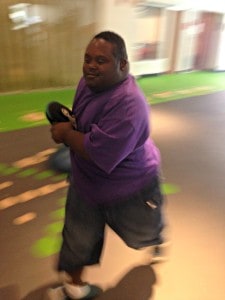 Outside of the weekly Life Shop visits, Midtown also hosted an open-house fundraiser that benefitted OK and were sponsoring partners, fundraisers, and participants in the 2015 OK Chilly Dash and Chili Cook-Off. The partnership was so unique and innovative that it was even featured on ABC News. Midtown became a big part of the OK family in 2014 and "all the interactions were very personal and heartfelt," said Carmody.
Since the OK fitness center renovation and the partnership with Midtown, Pierce and Carmody have both noticed a shift in participants' views toward health and wellness. "The atmosphere in [the fitness room] and the attitudes toward fitness have really changed," said Pierce. Midtown "helped us find a way to get Warriors motivated and change the perception of exercise from being a chore to being more of a fun activity they want to participate in."
The organic partnership with Midtown fell in line with two pivotal components of the OK mission: Health & Wellness and Community Integration. And Carmody believes that the experience will have a lasting impact. "We are going to feel that wave for a long time coming," he said. "I think [Midtown] planted a seed that we are helping nurture and grow. They set the bar high in terms of Health and Wellness partnerships moving forward. They paved the way for a lot of great things."