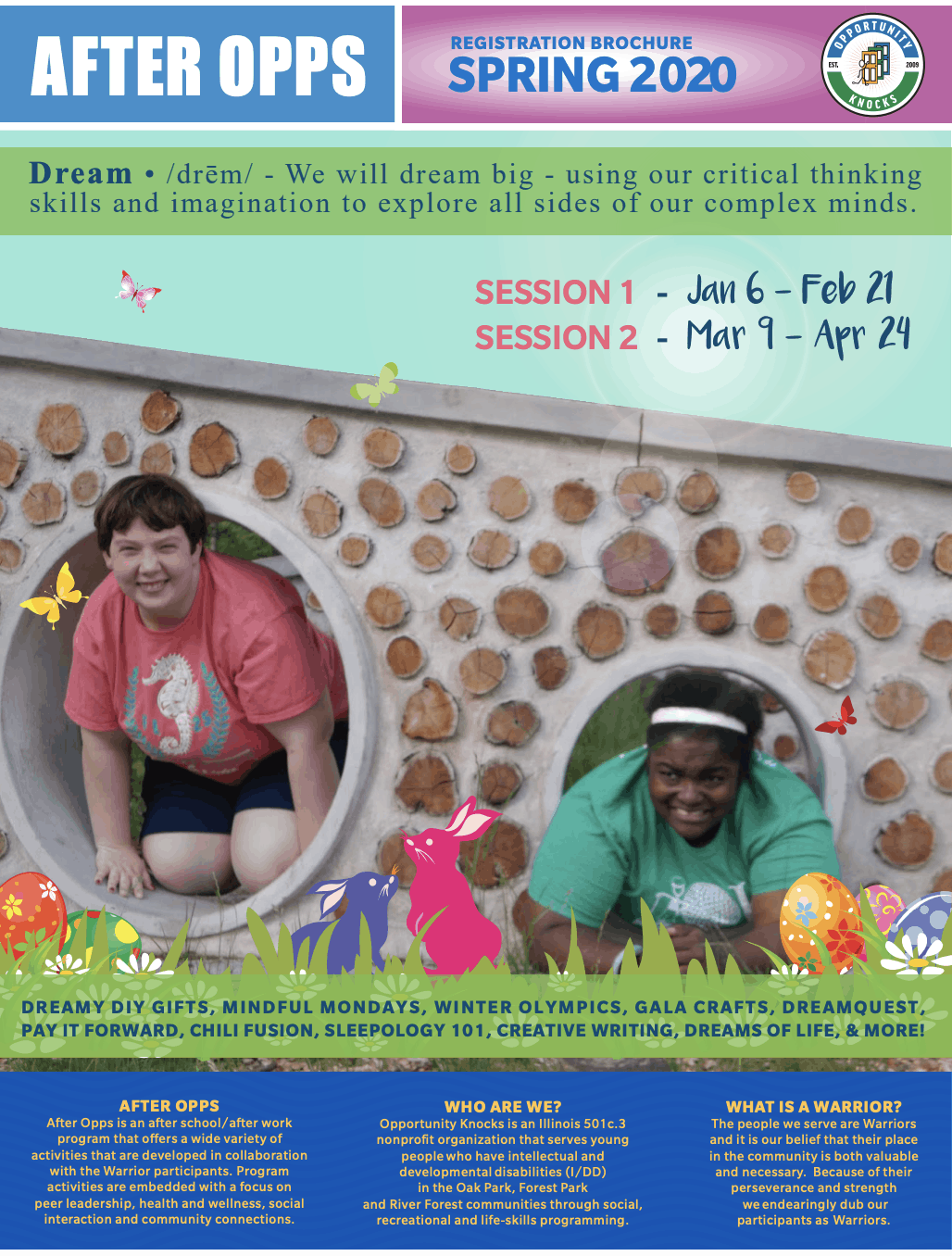 CLICK HERE to view the registration page.
Click the above image to view the Spring 2020 Brochure.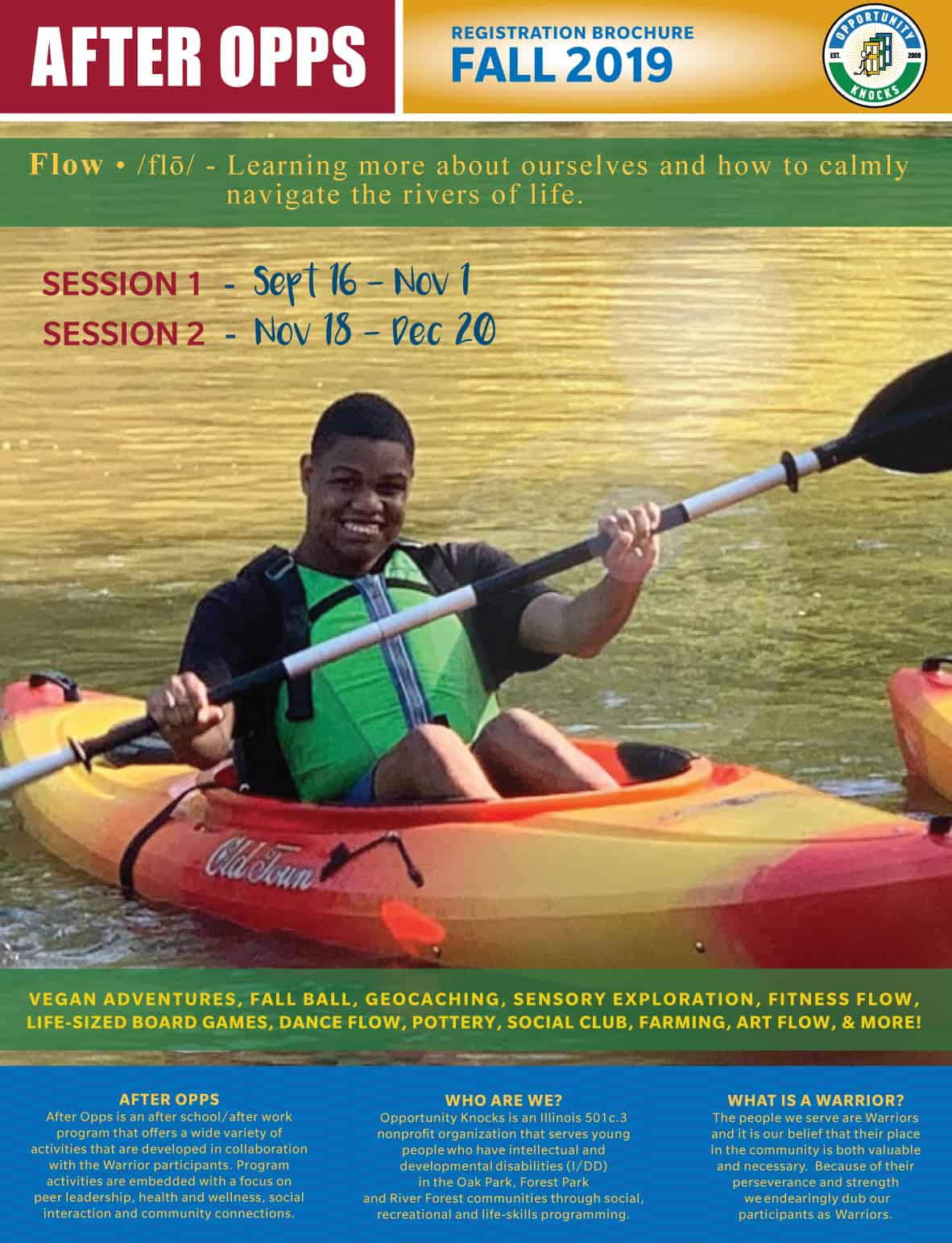 CLICK HERE to view the registration page.
Click the above image to view the Fall 2019 Brochure.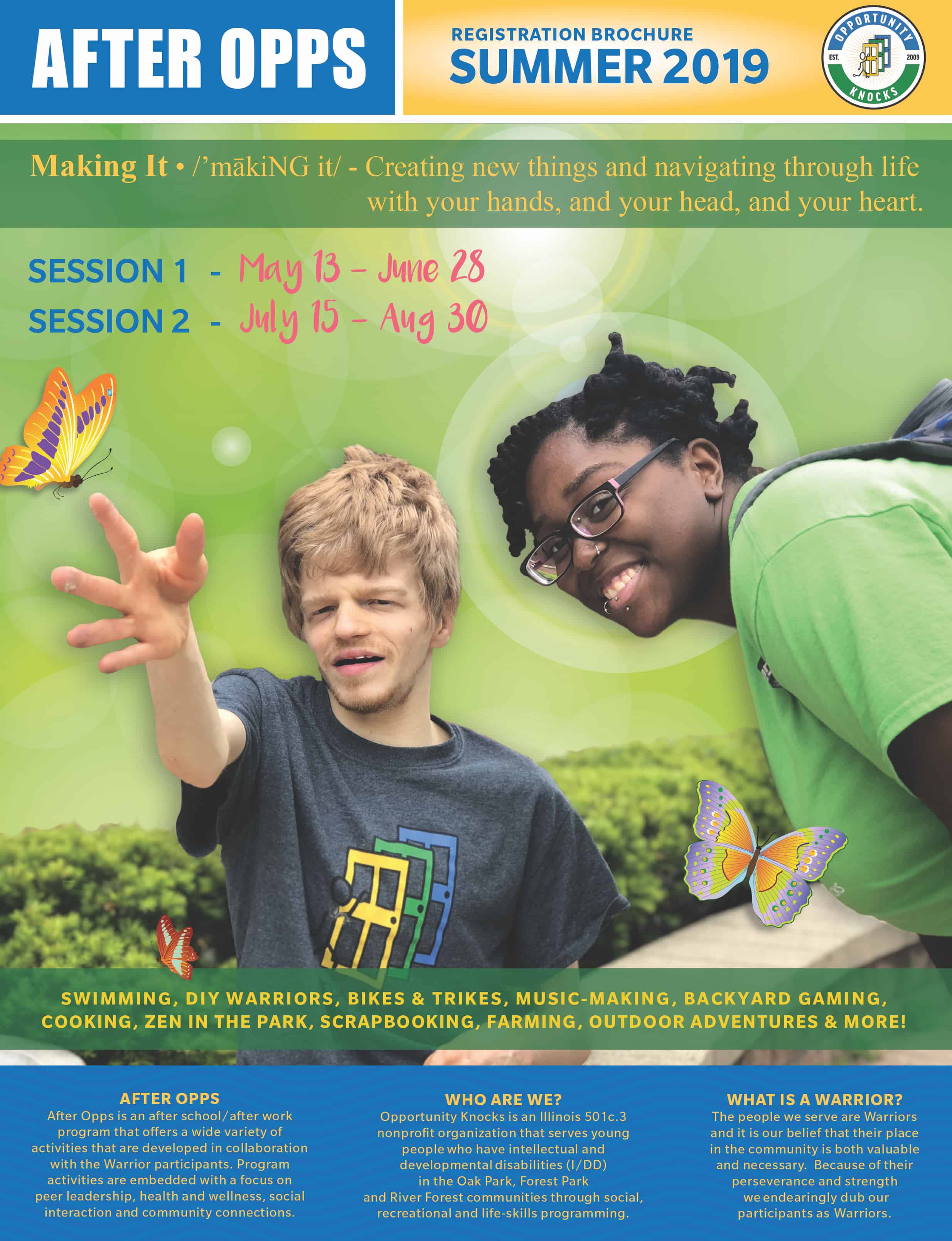 CLICK HERE to view the registration page.
Click the above image to view the Summer 2019 Brochure.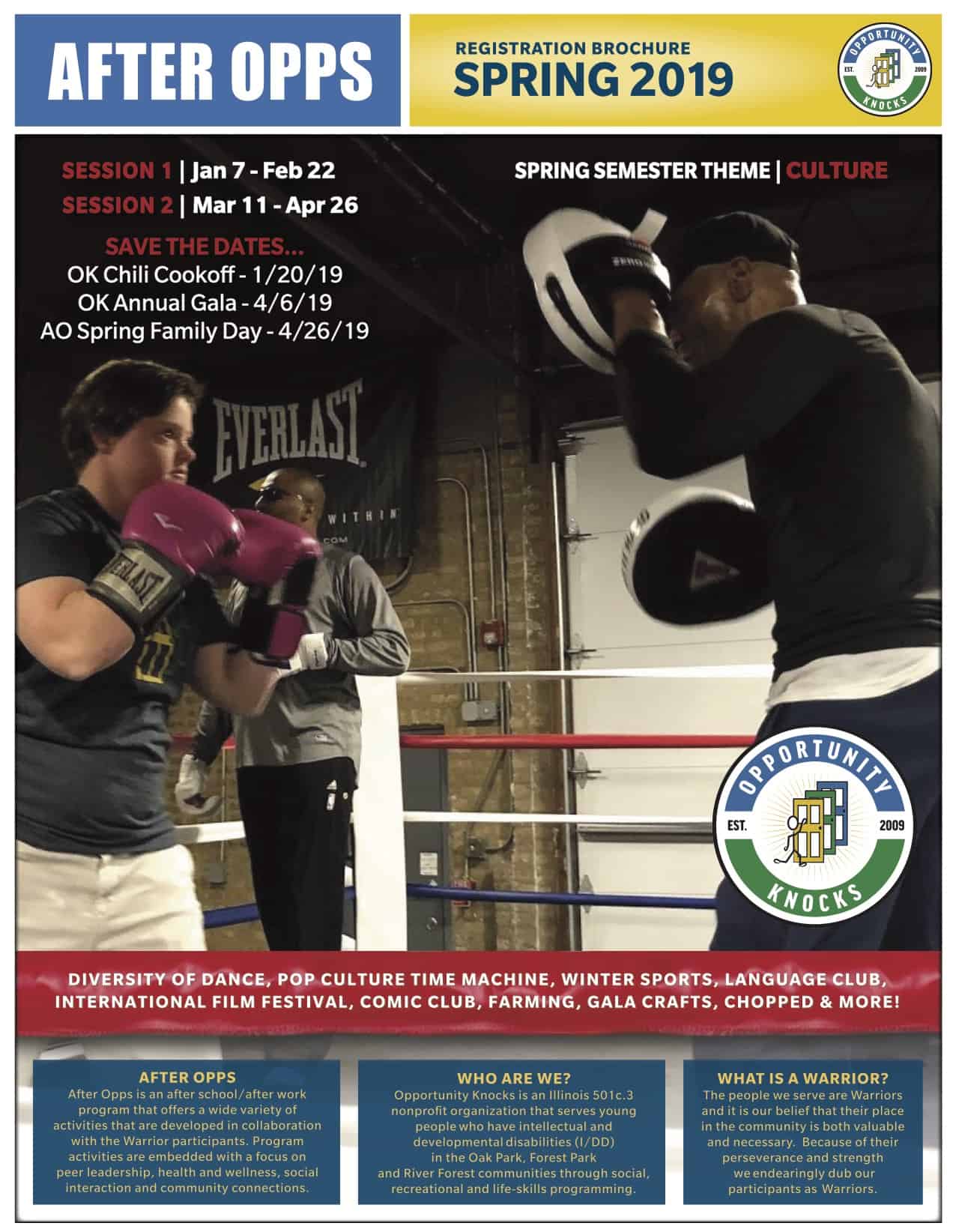 CLICK HERE to view the registration page.
Click the above image to view the Spring 2019 Brochure.
AN AFTER SCHOOL, AFTER WORK PROGRAM
After Opps is an after school/after work program that offers social and recreational activities of all kinds. Each session's activities are determined through a collaborative partnership between Warrior participants and OK Staff.
After Opps aims to stimulate the interest of various leisurely activities, participation within the community, and the continued engagement of these activities outside of programs. Participants play a great role in determining what types of activities are made available in later sessions. We believe that our participatory-based programming is the key to fostering leadership, respect and self-advocacy.
In addition, with a strong support system of peers, staff and volunteers, Opportunity Knocks programs creates a environment where individuals can express themselves freely, where healthy relationships can be fostered in a safe, nurturing setting. The After Opps program has developed many unique activities that are tailored to the needs of the Warriors and are highly based off of their passions and interests.
PROGRAM STRUCTURE
OK holds 3 After Opps program semesters per year which are spring, summer, and fall. Each semester consists of two 7-wk sessions, with the exception of Fall 2 (5-wks). Program offerings each semester are based around a particular theme that Warriors explore through a variety of lenses. Programs take place on Monday, Wednesday, and Friday from 3:00 pm – 6:30 pm. There are four different activity groups each day, with at least one leaving the facility to take part in a community-based activity. Each day consists of the following:
ARRIVAL/SNACK TIME (3:00-4:00 pm): 
The first hour of each day are arrival/snack time and it is when participants get the chance to settle in, transition from where they are coming from, grab a snack, and mingle with their friends. Warrior choices at this time include playing games, working on crafts, working out in the fitness room, socializing, helping program leaders set up for activities, and more.  There are also relaxation rooms set up for individuals who like to warm up in a quieter atmosphere. At 4pm after everyone has arrived, we do a group meditation then break off into our groups for the afternoon. 
STRUCTURED ACTIVITIES (4:00-6:00 pm):
On Mondays, Warriors are placed in one of four desired groups for the first 3 weeks of the session. They rotate to another desired group from weeks 4-6. The last half-hour program window on Mondays is filled with a large group breakdown – which includes meditation, reports from each group (summary of activities, Warrior awards for positive behavior, staff/ volunteer shoutouts, etc.), reflection activities related to the semester theme, a Warrior Question of the Day, announcements/ open forum, and group cheer. 
On Wednesdays, participants are assigned to one of four groups. The on-site groups rotate between activities at the River Forest Community Center at the halftime mark. These four different groups also rotate throughout the session so that everyone will eventually have the opportunity to try each activity.
Fridays are dedicated to the in-depth exploration of hobbies and interests. On Fridays, Warriors stay in one of the four groups for the duration of day and throughout the length of the session. After Opps always offers a cooking group on Fridays, who prepares a large family-style dinner each week for all to enjoy. 
The 7th week of our sessions is a Warrior choice week, in which Warriors get to choose from an array of fun activities to celebrate their hard work across the session. 
DISMISSAL/ GYM TIME (6:00 – 6:30pm)
The last thirty minutes is the program pick-up window. It is also filled by a Warrior-planned activity, free time in the gym, and clean-up time. All participants, volunteers, and staff are expected to help one another to keep our space clean.
ELIGIBILITY AND REGISTRATION REQUIREMENT
The program is designed for individuals with an intellectual or developmental disability
Participants must be 14.5 years old
Participants must live in Oak Park, River Forest or Forest Park
SESSION REGISTRATION
Opportunity Knocks holds 3 program seasons (spring, summer and fall), each consisting of two 7-wk sessions, with the exception of Fall 2 (5-wks). Programs take place on Mondays, Wednesdays, and Fridays for 3.5 hours. The day begins at 3:00pm and goes until 6:30pm.
Participants may register for 1 day per week, 2 days per week, or 3 days per week (the full session). When completing the registration form, please indicate which day(s) the participant will be attending for the duration of the session.
SESSION FEES & FINANCIAL ASSISTANCE
Registration fee includes daily programs, daily snack and dinner (Friday's only). Opportunity Knocks also strives to achieve full Warrior engagement via staffing that will not exceed a 5:1 Warrior to staff ratio.
PARTICIPANT FEES TABLE FOR 7-WEEK SESSIONS
| | | | |
| --- | --- | --- | --- |
| Annual Household Income       | 3/days/wk       | 2 days/wk       | 1 day/wk         |
| >$55,000 | $756 | $504 | $252 |
| < $55,000 > $35,000 | $567 | $378 | $189 |
| < $35,000 | $378 | $252 | $126 |
PARTICIPANT FEES TABLE FOR 5-WEEK SESSION
| | | | |
| --- | --- | --- | --- |
| Annual Household Income       | 3/days/wk       | 2 days/wk       | 1 day/wk         |
| >$55,000 | $540 | $360 | $180 |
| < $55,000 > $35,000 | $405 | $270 | $135 |
| < $35,000 | $270 | $180 | $90 |
Opportunity Knocks offers a sliding fee scale that is adjusted based on family income. It is our goal to serve all interested participants who are eligible for these programs. Please note that in order to take advantage of this, a Financial Assistance Form must be completed for each participant during intake.
SAFETY REQUIREMENTS
Safety is important to us. To ensure safety of our participants, we ask for full cooperation with the following guidelines:
Opportunity Knock's staff is responsible for the safety of program participants during designated program times. Please adhere to scheduled drop-off and pick-up times.
Participants enrolled in Opportunity Knock's programs will not be released to anyone other than a parent, guardian or family member without prior written consent from the parent/guardian.
When arriving or departing from the program site, parents should check in with an OK staff member before leaving or taking participants home.
A child or minor will be allowed to walk home from the program site only if written permission from the parent or guardian has been received.
If you will not be attending the program, please notify us at the Opportunity Knocks office by phone (708) 771-6159 ext. 220 or by sending an email to Oscar Montanez: Oscar@opportunityknocksnow.org
GET IN TOUCH:
For any inquiries about the After Opps program, please contact program director Oscar Montanez (Oscar@opportunityknocksnow.org  or 708-771-6159 ext.220).
Click the images to the left to visit the After Opps registration page.
Keep up with the latest After Opps action on our blog.