After Opps is an after school/after work program offering a wide variety of activities that are developed in collaboration with the Warrior participants. Program activities are embedded with a focus on peer leadership, health and wellness, social interaction and community connections.
In an effort to be more consistent and cohesive across programs, we have established a unified theme approach to help guide program offerings in both Life Shop and After Opps. The theme for the 2019 Spring Semester, spanning two 7-wk After Opps sessions, is "CULTURE": Exploring and understanding the intersections of people, places, and things in our diverse and ever-changing world. Programs are wide-ranging, but tie into culture in some way.
We packed a full slate of exciting culture-themed programs and special events into this seven-week session. Check it out!
Mondays:
Community Opps researched and visited the Ronald McDonald House and planned and shopped for a dinner. During their final week, Warriors prepared homemade pizzas for their Meals from the Heart program to be served to house guests.
In Pop Culture Time Machine, Warriors had fun traveling through time to learn about music, fashion, fads, and more in the 60s, 70s, 80s, 90s, and 00s. Activities included polaroid photo shoots, nerf gun target shooting, pokemon/ baseball cards, Beanie Baby bozo buckets, N64, making lava lamps, Star Wars jedi training courses, MLK history lessons, musical chairs, tie-dye, and more! 
The Winter Sports group put a Warrior twist on seasonal favorites like hockey, curling, basketball, and bowling!
Our Peer-Led group planned and led the second half of the session's Pop Culture Time Machine and Winter Sports groups. Sarah, Jenna, and Maddy C took us back to the 00s, 60s, and 80s while Katrina and Lizzy taught us floor hockey, curling, and bowling! Nice work ladies!
Wednesday:
In our Gala Art group, Warriors made some culture and superhero-themed crafts for our upcoming Night for Opportunities Gala on April 6th! We hope to see you there!
Diversity of Dance explored many different genres of musical movement. During Ballet, we learned the 5 ballet positions and participated in a barre and center floor warm-up. We also had some special guests and dance outings this session: Thank you to Ava from Dynamic Lynks Music Therapy who warmed us up with some music and then led "viral" dances from the internet! Thank you to Sarah from Maiden Street Irish Dance Company for performing and teaching us some traditional Irish dances! Thank you to Erika and Pineapple Dance Studio for hosting an up-beat and exciting belly-dance class!
In our International Film Festival group, we explored several different cultures and related movies. We discussed how these various films depicted culture through language, motifs, and art styles. Some films included Coco (Mexico),  Spirited Away (Japan), Ratatouille (France),  Run Lola Run (Germany), I am Sam (Disability Culture), and more!
In Culture of Our Community, Warriors explored our local communities and the people, places, and things that help define our local identity. Destinations and activities included a St.Patrick's day lesson and scavenger hunt in Forest Park, Frank Lloyd Wright tour and dream house blueprint activity, tour and local history lesson at the OPRF Museum, and a visit to Kidz Express in Austin to join their basketball and arts groups. Thanks to all the community partners who assisted and let us visit for this program!
Fridays:
Our Friday hobby groups had something for everybody! The cooking group's theme this session was Pita Party  and Warriors cooked up an array of delicious dishes from the Mediterranean.
Warriors in the Community Vocation group partnered with Hephzibah and helped lead games, crafts, and activities with children in their after-school programs. 
In Wellness Warriors, Warriors learned about taking care of their bodies and minds. We practiced some circuit workouts, meditation, and designed personalized self-care plans to take home. 
Our Language Club group learned words, basic phrases, and songs in Spanish, French, German, and American Sign Language. We also were lucky to host students from the Proviso Math and Science Academy Improv Team and leaders from the Oak Park Public Library Social Change Theater for some fun improv games and activities. Thanks for coming to learn and laugh with us!
Special Events
In week 7 of the session, we celebrated Warriors' hard work and accomplishments with a series of specialty days and activities.
On Monday, we took a group outing to Circle Lanes for some fun bowling action.
On Wednesday, Warriors got to choose between our Dance, Film, and Arts groups.
On Friday, Warriors celebrated Opportunity Knocks 9th birthday with a good ole' fashioned Spring-ish Fling-ish Dance Party! We also had an arts and cooking group going for those looking for a break from the dance floor. 
Warrior Quotes:
"We were helping the after school program and playing basketball [at Kidz Express]. Kids wrote about when they grow up and we played computer games. I love kids so much and I love being a role model." | JARVIS "THE ROLE MODEL" HART

"Thank you [to the PMSA Improv Team] for coming to do improv. It was lots of fun playing improv games. I loved the improv games, it is always very fun and exciting!" | REBECCA M.

"We played games and dressed up [in Pop Culture Time Machine]. It was good and awesome!" | SONYA T.

"Cooking was my favorite. Pasta was my favorite thing we cooked." | SARAH C. 

"We looked around and took a tour [at the OPRF Museum]. We went upstairs and looked at some stuff. I learned about the 1800s and the way things used to be. I liked the pictures at the museum. I liked it and it was fun! Thank you for the tour." | TALIB W.

"In Community Vocation we went to Longfellow. We had fun with the kids, played dodgeball, hung out, got to know each other. I would love to do that again some time." | ERIC C. 

"I liked Pop Culture Time Machine. I do love the music. My favorite was the 80's and the 2000's." | ANDREW E.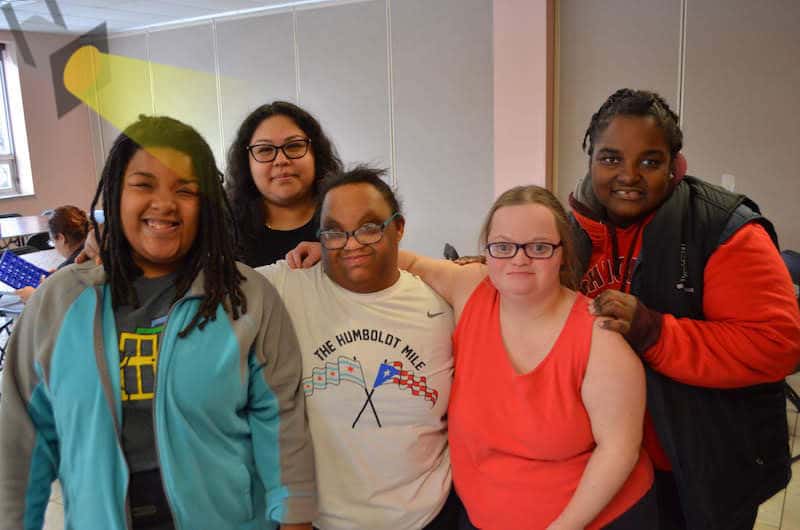 Volunteer Spotlight: Itzel Montalvo
Program Intern, Dominican University
Volunteers and interns help make our programs great! Throughout the year, we will put a spotlight on some of these amazing people who offer their time and talents for the good of the Warrior mission. Our first 2019 spotlight is on Dominican University psychology student Itzel Montalvo (second from left) who is completing her internship in Life Shop and After Opps. Thanks for all your work Itzel!
Where are you from? Chicago
Travel destination on your bucket list? Paris
Food you are craving right now: Pizza
What is your ideal Saturday? Going shopping and to the movies.
If you had to listen to one musician/ band for the rest of your life, who would it be? Selena Quintanilla
What is something you are reading, watching, or listening to right now? Riverdale
What do you like about being part of Opportunity Knocks? I love that the warriors are teaching me to get out of my comfort zone and the teamwork of everyone helping each other.
GET IN ON THE ACTION
Thanks for a great Spring 2 session, Warriors! We are already having a blast in our second culture-themed session with Disability Culture, Cultural Connections and Etiquette, Comic Club, Farming, Gala Spotlight Moment, Chopped, Community Opps, World of Sport, Global Grooves, Martial Arts, Wellness Warriors, and more!
Please contact Dan Scherer-Emunds, dan@opportunityknocksnow.org or 708.769.1451 with any inquiries about the After Opps program.
Click here to view more photos and videos from After Opps Spring Session 1.