We've got another round of fresh programs in After Opps to kick off 2015 Warrior-style! Check out the action!
---
Mondays
Real Life Role Play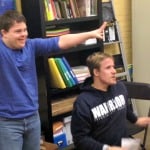 We are putting Warriors in real-life situations that people may find uncomfortable or worrisome and coming up with practical responses and solutions to the situation through acting. Lessons include safety, stranger danger, dating skills and more. This program is peer-led by Erik Cox.
American Cultures
In this program, Warriors have been learning about the diverse cultures, elements, and people that make America great. The first week, we discussed Native American culture and made dreamcatchers with the help of the OPRF Girls Basketball team. On MLK Day, the group discussed the African American Civil Rights Movement to honor Martin Luther King JR. We watched his famous "I Have a Dream" speech, read an article about his role in ending segregation, and wrote down our own dreams and read them aloud to each other.
Indoor Sports
The first week we played tennis. We went over different types of drills and then practiced serving and hitting the ball back and forth. The second week, the OPRF Girls Basketball team played some team-building and relay games with us! It was a lot of fun!
Gala Art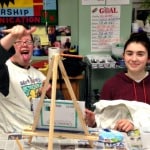 In this program, the Warriors have been learning about color by using just red, blue, white and yellow in different combinations to create their own "custom" paint colors and then applying them onto canvas to create their own pieces of artwork. The theme has been flowers, concentrating on Georgia O'Keefe's work. Week#1 – The award went to Eliza, who totally on her own, mixed her own paints and then painted her version of the famous "Red Poppy". She did an outstanding job. Week#2 – The OPRF Girls Basketball team came in and volunteered and worked 1-on-1 with several of the Warriors. They were a big help! Ryan and Dana both did a great job of mixing and blending their own colors, and then creating their own "flower" themed painting. They both received an award. "My favorite program was painting," said Mike "Beef" White Jr. "I had fun with my friends and had fun talking and having a good attitude."
---
Wednesdays
Community Opps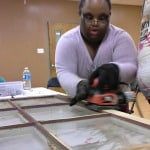 In the first week of programs in Community Opps we labeled pickle jars for the OK Chili Cook-Off. Last week we started sanding windows for one of our projects for the silent auction at the upcoming OK Gala. The Warriors got to use power sanders and Sonya and Eliza both got awards for teamwork for volunteering to use the power sanders. They both did an awesome job, especially considering it was their first time using them. "I liked working on the window," said Sonya. "It was cool using the tools. It was my first time using it and I was safe."
Greenline Wheels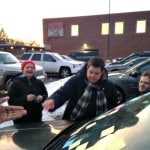 Warriors have been working hard to stay in shape despite the Chicago winter weather. Each week we visit our friends at Greenline Wheels for some awesome spin classes. All Warriors have been working really hard, but awards have gone to Karina Leonard and Patrick Milburn for their efforts. "I love Greenline," said Karina. "It is my favorite thing going there. We ride bikes and it feels good. I like to listen to music and dance on the bike." Donated gift cards to Marion Street Cheese Market were also presented to Eliza Grahnke and Andre Basso, who earned the gifts for their hard work.
Punk'd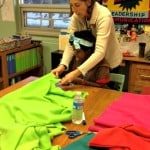 In this program based on the popular MTV show Punk'd, we learned the difference between a good prank and a mean prank. We discussed some ideas we could do to "punk" people. We then went out and punk'd our friends and staff member Dan Scherer-Emunds by putting post-its all over his car windshield. Karina received an award for Teamwork and Becca received an award for Respect! "I liked putting stickers on Dan's car!" said Karina. "It was funny!"
Giving Back
In this program, to combat Punk'd, Warriors will be focusing on ways to give back to others and their community. Warriors have been working on making homemade fleece-tied blankets that we will be donating for dogs at a local animal shelter.
---
Fridays
Retro-Meals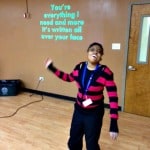 For cooking this session, Warriors have been whipping up some old-fashioned classic family meals. Warriors cooked up an old favorite meal, chicken pot pie last week. They worked together to make 3 large chicken pot pie casserole dishes that everyone loved! The first week they cooked homemade meatloaf which was also a big hit!
Warriors Got Talent
This Friday group has been focusing on preparing a Talent Show for the upcoming OK 5-Year Anniversary Party on February 13th. Warriors have chosen, planned, and rehearsed some of their amazing talents that will be on display including singing, dancing, comedy, impersonations, and more!
Medieval Times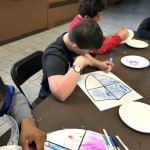 We have been preparing our Medieval Times accessories for a performance at the OK 5th Anniversary Party! We've decorated our own shields of armor and this week we started making crowns out of lace ribbon! Sonya Taylor won the award for leadership in week 2 because she helped me gather materials, and kept the group motivated and helped her peers! "I like being with my friends," said Sonya. "We are getting ready for the show on family fun night. I'm gonna be a princess."
Party Planning
With the 5 year anniversary coming up the Warriors are hard at work, with making homemade decorations, making the invitations and sending them out, creating a playlist for the party, and making sure it will be a party to remember! "I like Party Planning," said Karina. "I liked the art and making decorations. I am excited for the party!"
---