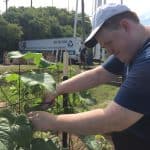 At the Life Shop we are enjoying our time at the OK Farm thanks to Farmer Joe O'Meara!  Farmer Joe O'Meara (not the pickle Joe!) has been teaching all of us here at the Life Shop on how to plant, weed, water, and harvest veggies and flowers at the beautiful OK Farm!  It has been quite the experience to watch this farm grow and to participate in the full experience from the start of shoveling dirt into the boxes to now picking the veggies!!  How cool is that!
Where is this OK Farm that I speak of?  It's on the south-east side of our friend and business partner ReUse Depot located on Madison and 1st in Maywood.  The ReUse Depot has been a huge part in making this farm a reality for us!  I highly recommend you driving by the OK Farm and making a quick stop inside the ReUse Depot to find a treasure or two sifting through their impressive display of  reused & salvaged building materials & gorgeous furniture items.
Check out the pictures of the Life Shop at the OK Farm from this last Tuesday.  Groups helped pick cucumbers, plant seeds, and wash cucumbers!  Kris was having a great time washing the cucumbers that Danny and Max picked! Sonya was seeding and water!