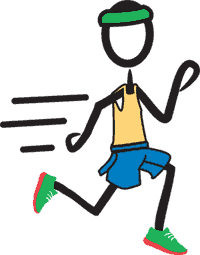 JOIN OUR TEAM!
Guarantee your spot in the 2018 Bank of America Chicago Marathon by running in support of the Opportunity Knocks Warriors. Runners who register with an Opportunity Knocks guaranteed entry will be responsible for fundraising a minimum of $1,000 (marathon entry will be reimbursed to you when the minimum of $1,000 is achieved!)
STEP 1: Register for the Chicago Marathon 
Register to run the Bank of American Chicago Marathon with Opportunity Knocks on the Charity Application page. All runners must pay their $195 entry fee. Once you reach your fundraising minimum Opportunity Knocks will refund your entry fee!

STEP 2: Submit Participant Waiver 
Complete the Opportunity Knocks Commitment & Waiver Form and submit to Jeni at jeni@opportunityknocksnow.org.

STEP 3: Create Fundraising Page 
Create your personal fundraising page through Kindful!
Already have a 2018 guaranteed entry? 
You can still fundraise for Opportunity Knocks and be eligible for entry reimbursement with a $1,000 fundraising minimum and all the perks!!
Runner Perks
For running with Team Opportunity Knocks, you will receive a Warrior Wellness shirt, Walk to Run Club with the Warriors from May to September in 2018, a personal fundraising webpage with tips on how to fundraise, registration fee reimbursement for the Bank of America Chicago Marathon with $1,000 fundraising minimum, and free entry into the Warrior Mile virtual fun run in summer 2018!
Contact
Please contact Jeni Pierce with any questions at jeni@opportunityknocksnow.org or at (616) 283-8433.
IMPORTANT DATES
Guaranteed Entry Application Opens
Tuesday, October 24, 2017 
Opportunity Knocks Runners who register through the charity process during the guaranteed application window will be responsible for fundraising a minimum of $1,000. Other guaranteed entries include time qualifiers, legacy runners, and 2017 deferred applications.

Non Guaranteed Entry Application Period
Tuesday, October 31, 2017

Application Period Closes
2PM, Thursday, November 30

Bank of America Chicago Marathon
Sunday, October 7, 2018

Fundraising Deadline
November 7, 2018
SUPPORT THE WARRIORS
Opportunity Knocks is an Illinois 501c.3 non-profit organization that serves young people who have intellectual and developmental disabilities (I/DD) through social, recreational and life-skills programming.
The people we serve are Warriors and it is our belief that their place in the community is both valuable and necessary. We envision a community where individuals with developmental disabilities have an active and supported presence.
Our socially interactive programming places consistent emphasis on the value of self-advocacy and community integration. The goal is to provide opportunities for self-enrichment in the life of the Warrior, in turn giving the Warrior an opportunity to enrich the community.