A FARM TO JAR PICKLE ENTERPRISE
FROM THE WARRIORS OF OPPORTUNITY KNOCKS
WGN-TV CHICAGO'S BEST FEATURES KNOCKOUT PICKLES
Elliott Bambrough and WGN's Chicago's Best crew visit the Warriors and feature our growing social enterprise.
WGN's CHICAGO'S BEST FEATURES KNOCKOUT PICKLES
Elliott Bambrough and WGN's Chicago's Best crew visit the Warriors and feature our growing social enterprise.
A WARRIOR-DRIVEN SOCIAL ENTERPRISE
Knockout Pickles is a small batch line of farm-to-jar artisanal pickles. The production, marketing, sales, and distribution are all performed by young people with intellectual and developmental disabilities. The enterprise is an extension of Opportunity Knocks, a non-profit organization serving young people with developmental disabilities in the near west suburbs of Chicago.
This enterprise marks our launch into the vocational aspect of our mission. Our purpose is to create an operation where Warriors can take full action in all areas of the organization by exploring abilities, building skills and growing the business through their work. At the core alongside the mission work is our commitment to crafting a DILL-icious artisanal pickle.
WHERE TO FIND KNOCKOUT PICKLES
BERWYN TOWNSHIP FARMER'S MARKET
Come see us at our booth at the market and pick up your fresh Knockout Pickles. The market runs from 9am to 1pm every Sunday from July 1st thru September 30th. The Market is located at Lesak Park, 6600 26th St. in Berwyn.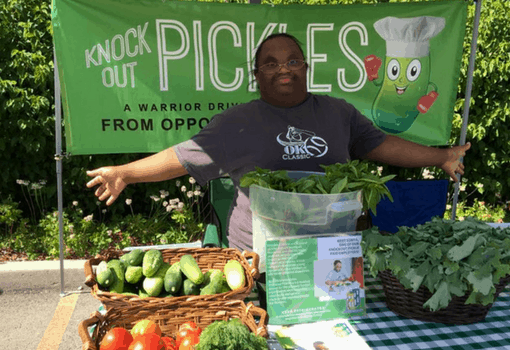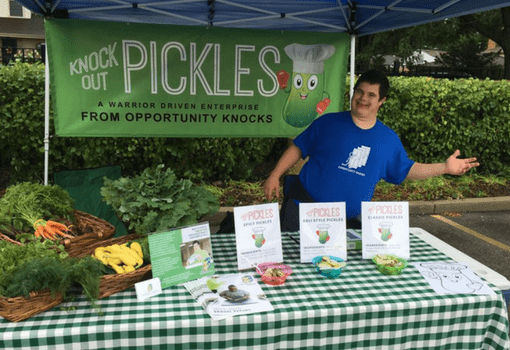 GREAT LOCAL RESTAURANTS
SOLD IN BULK FOR USE ON THE MENU AT THESE LOCAL RESTAURANTS
LOCAL RETAILERS
SOLD BY THE JAR ON THE SHELF AT THESE LOCAL ESTABLISHMENTS
KNOCKOUT PICKLE BLOG
STORIES OF WARRIORS IN ACTION ALONG THE WAY OF GROWING, HARVESTING, PRODUCING AND SELLING KOPS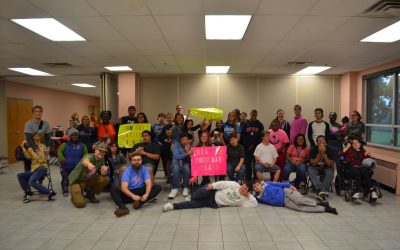 After Opps is an after school/after work program offering a wide variety of activities that are developed in collaboration with the Warrior participants. Program activities are embedded with a focus on peer leadership, health and wellness, social interaction and...
read more
BULK ORDER FORM
Due to freshness and quality standards, our current KOP recipe is of the refrigerated variety. Because of that shipping and handling poses challenges for us to overcome in offering online orders. If you are looking to place an order of 6 or more jars, and you are willing to come by to pick them up, we can accommodate your order! Please click the link and submit your order. Thank you!
Mailing List
Sign up for the Knock Out Pickles mailing list and keep up with all of the exciting new updates and information about the enterprise, as well as communications related to any special order opportunities. Click below to sign up now!
SOCIAL ENTERPRISE
Opportunity Knocks has two social enterprises which provide a revenue stream in addition to meaningful and gainful employment for the Warriors, Knockout Pickles and the Warrior Catering Company.
A social enterprise is a business created to further a social purpose in a financially sustainable way. At Opportunity Knocks, we created our social enterprise for two primary reasons:
To augment the revenue stream from our programs so that we would become more financially self-sustaining; and
To provide opportunities for Warriors to practice important vocational skills in a meaningful employment setting.
Like most things at OK, each of our businesses developed organically out of our Warrior-focused program efforts in the culinary arts. As planning, shopping and meal preparation are integral components of all our programs, it was a natural extension that our enterprise efforts would capitalize on these important life skills. It was also imperative that our Warriors would be involved in all facets of the business operation, from sales and marketing to production and distribution, so that such skills could be utilized in the pursuit of other vocational interests.