A FUNDRAISING GALA FOR
OPPORTUNITY KNOCKS
---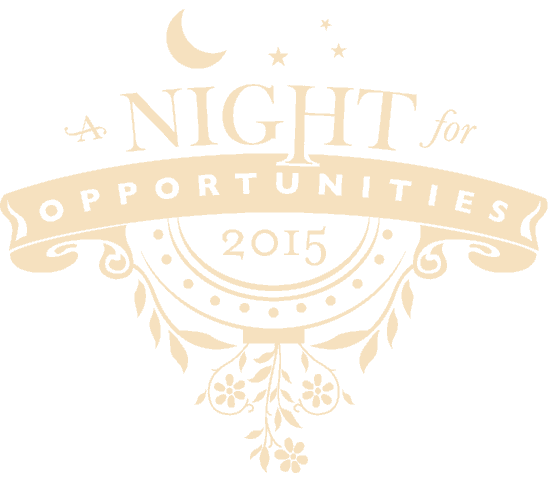 ---
SATURDAY
APRIL 18, 2015
CHICAGO, ILLINOIS
ARCHITECTURAL ARTIFACTS
4325 North Ravenswood Avenue | Chicago, Illinois 60613

PURCHASE
TICKETS
ADMISSION
Includes a full open bar, passed hors d'oeuvres, buffet-style dinner, dessert, live entertainment and a tax-deductible donation of fifteen dollars. Individual tickets purchased after April 10, 2015 will be $140.
INDIVIDUAL
$140
AFTER APRIL 14, 2015
SHUTTLE
$10
AVAILABLE FOR PURCHASE WITH INDIVIDUAL TICKETS OR TABLE RESERVATION
EVENT
SCHEDULE
6:15PM | DEPARTURE
Shuttle Bus Departs from the River Forest Community Center
7:00PM | RECEPTION
Cocktails & Reception
Silent Auction
Passed Hors d'oeuvres
7:30PM | DINNER
8:00PM | PROGRAM
Live Auction
Warrior Spotlight Moment
Fund-A-Need
8:30PM | LIVE MUSIC
The Chicago Catz
11:00PM | DEPARTURE
First Shuttle Bus Departs from Architectural Artifacts
12:00AM | CONCLUSION
Final Shuttle Bus Departs from Architectural Artifacts
EVENT
COMMITTEE
TIM CARONTI
SAMANTHA DEUCHLER
MIKE FAIR
ROBIN FLAHERTY
CHELSEA HAGUE
STEVEN MAYER
CHANELLE MORAGNE
DAVID MCCOY
AMANDA NEUMAN
MICHAEL PHELAN
MEGHAN KENNEDY
GEORGE SCHABOW
JEANETTE STAMM
Pardon the dust!
Please check back later as we make improvements to our site.
Opportunity Knocks
Who are we? Opportunity Knocks is an Illinois non-profit organization that serves young people who have developmental disabilities in the Oak Park, Forest Park and River Forest communities through social, recreational and life skills programming.
What is a Warrior? The people that we serve are warriors and it is our belief that their place in the community is both valuable and essential. Perseverance and strength through challenge brought us to endearingly dub our program participants as Warriors.
Programs
After Opps After Opps is an after school/after work program that offers social and recreational activities. Opportunity Knocks holds 4 After Opps program seasons (winter, spring, summer and fall) consisting of one 5-week session and one following 4-week session per season. Opportunity Knocks aims to stimulate the interest of various leisurely activities, participation within the community, and the continued engagement of these activities outside of programs.
Life Shop Presently, The Life Shop is limited to serving 10 participants. In the near future, we hope to expand the program to be able to serve more individuals. The Life Shop strives to maximize opportunities for the older than 22 adult with developmental disabilities. The program is focused on the Warrior in three phases: health & wellness, improving life skills and community integration.
Morning Opps Morning Opps is a new Opportunity Knock's program, launched in 2012, providing activities for the students in Oak Park River Forest High School's TEAM (Transitional Education with Access to the Mainstream) classrooms. Morning Opps is offered on late arrival Wednesdays throughout the school year when the OPRF faculty and staff participate in professional development training.
Contact
Address 8020 Madison Street, River Forest, IL 60305
Phone (708) 771-6159 ext. 204
Email info@opportunityknocksnow.org
Donate
General operations and the development and execution of programming are largely funded by the generosity of individual donors. Your donation helps Opportunity Knocks continue to engage young people who have developmental disabilities. Click here to make a general donation!