The Warrior Catering Co.
The WCC is a social enterprise of Opportunity Knocks, aiming to create and support vocational opportunities for young adults with intellectual and developmental disabilities. Our Warrior employees team up with our culinary team to work on all aspects of the operation, from menu planning, food prep, setup, food service, and breakdown.
The WCC offers a variety of high-quality, hand-crafted culinary delights for small to medium-sized events. All proceeds of the WCC go to support the programming of Opportunity Knocks.
We are excited about the growth prospects for this operation but remain conservative as we work on a scale relative to our resources in this area and a balance connected to core programming.
Booking Inquiries
For all inquiries and booking requests, please contact Opportunity Knock's Culinary Director, Joseph Hart at joseph@opportunityknocksnow.org
Booking Inquiries
For all inquiries and booking requests, please contact Opportunity Knock's Culinary Director, Joseph Hart at joseph@opportunityknocksnow.org
Meet the Warrior Catering Team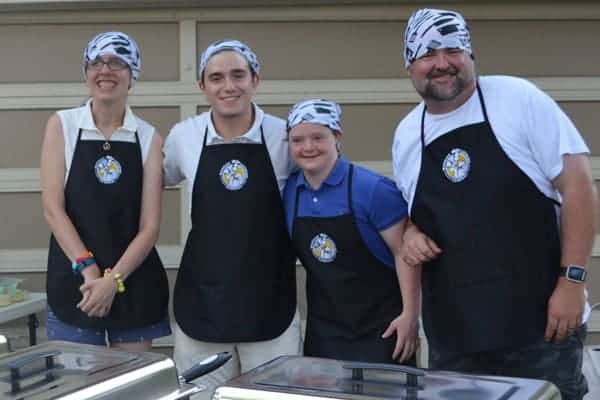 Joe Hart
Culinary Director | Head Chef
For the past three years, Joe has been the Culinary Director at Opportunity Knocks. He is leading the Knockout Pickles and Warrior Catering Company social enterprises and is about to finish his degree at the College of Dupage culinary program. He is constantly amazed to see the growth of these enterprises and the Warriors employed in the program. He sees food and service not only as a way for our Warriors to gain employment but to also carry what they learn into their home environment.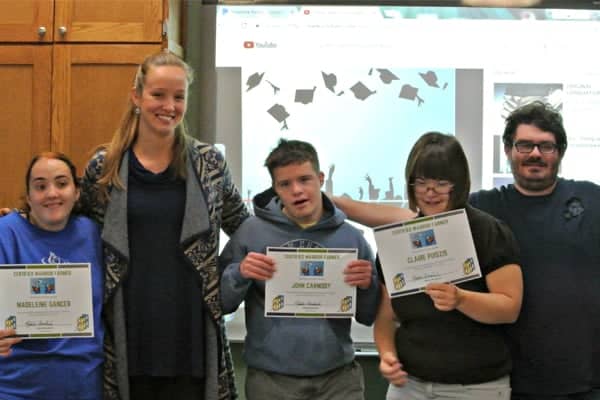 Natalie Woodcock
Farm Director | Asst. Head Chef
Natalie's role as Farm Director assists with connecting food grown on the OK Farm to our recipes. She has three years of serving experience and is an avid home chef interested in vegetarian recipes. Natalie is excited to be a part of WCC and it is important to her that individuals of all abilities have the opportunity to develop their skills in the workforce. She believes that food offers endless possibilities for developing these skills and contributes to one's wellness and creativity.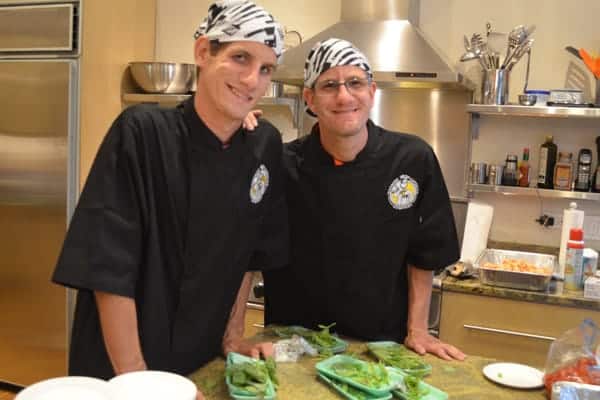 Matt Cox
Warrior Chef (left)
Recently moved to a new bachelor pad in Elmwood Park where he lives with his twin brother Erik. He recently graduated from the CITE program. Besides catering, he also works for the cleaning crew at In and Out Fitness. He lives life to have fun. His favorite part of being on the catering crew is giving out the food to people and seeing how much they like it. He also like serving and communicating to the back of the house on how things are going.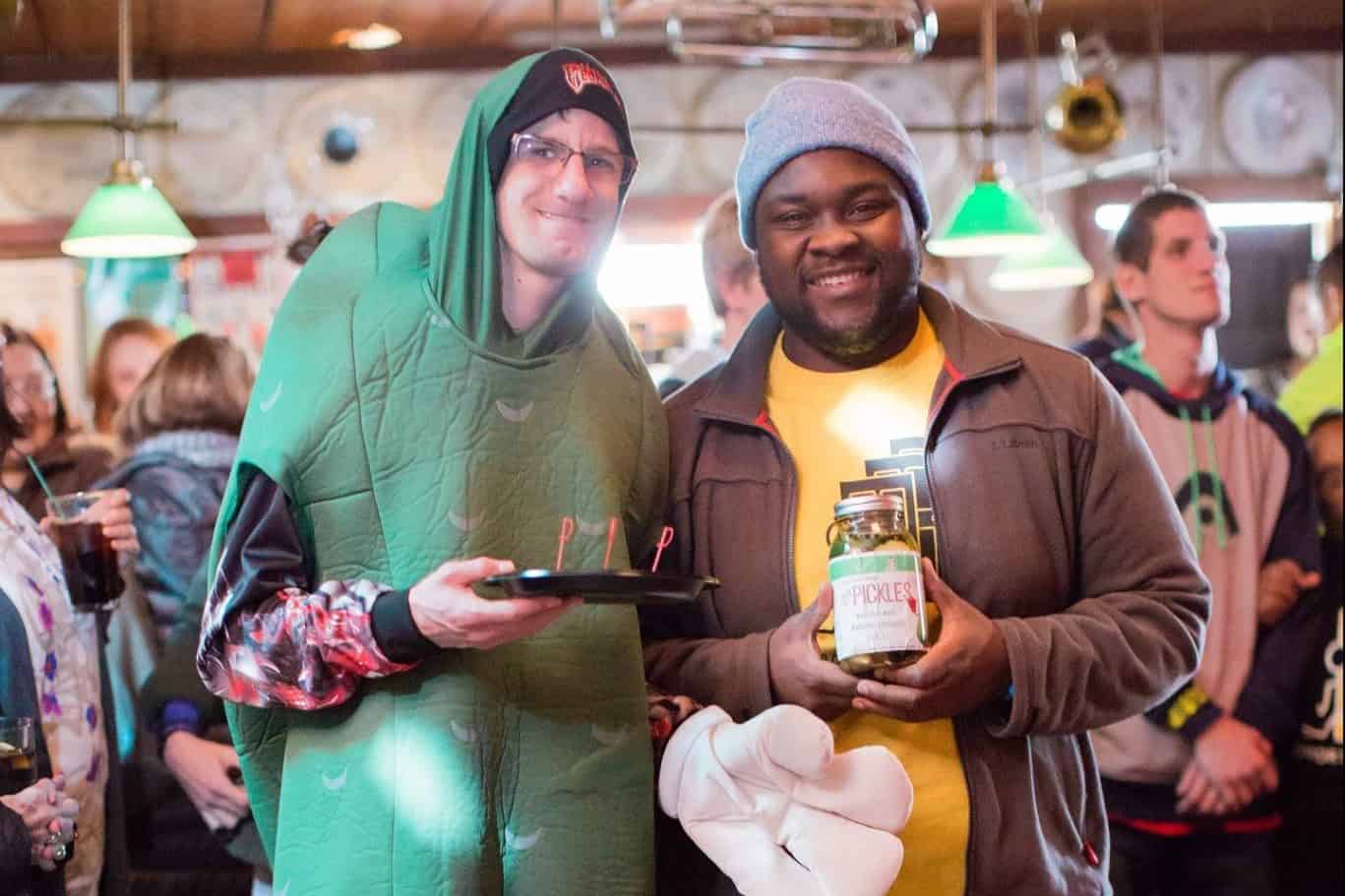 Erik Cox
Warrior Chef (left)
Erik is from Elmwood Park and graduated from the OPRF CITE program in 2015. He works at Buona Beef Catering as well as Warrior Catering Company. His favorite part about Warrior Catering Company is hanging out with his boss, Joe Hart, and interacting with customers. Erik says that Warrior Catering has helped him learn how to be polite, dress professionally, and clean up after himself. Erik has also learned how to use a knife safely and feels that he can focus better since working for Warrior Catering Company.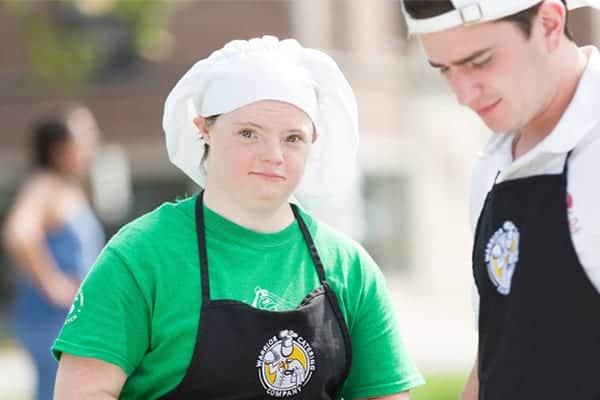 Georgia Hunter
Warrior Chef
Georgia lives in Oak Park. She has Down's Syndrome and is a junior in college at Triton and studying Culinary Arts. Besides WCC, Georgia also works for Empowering Gardens and is a cashier at Trader Joe's. Her favorite part of WCC is being able to help develop new recipes.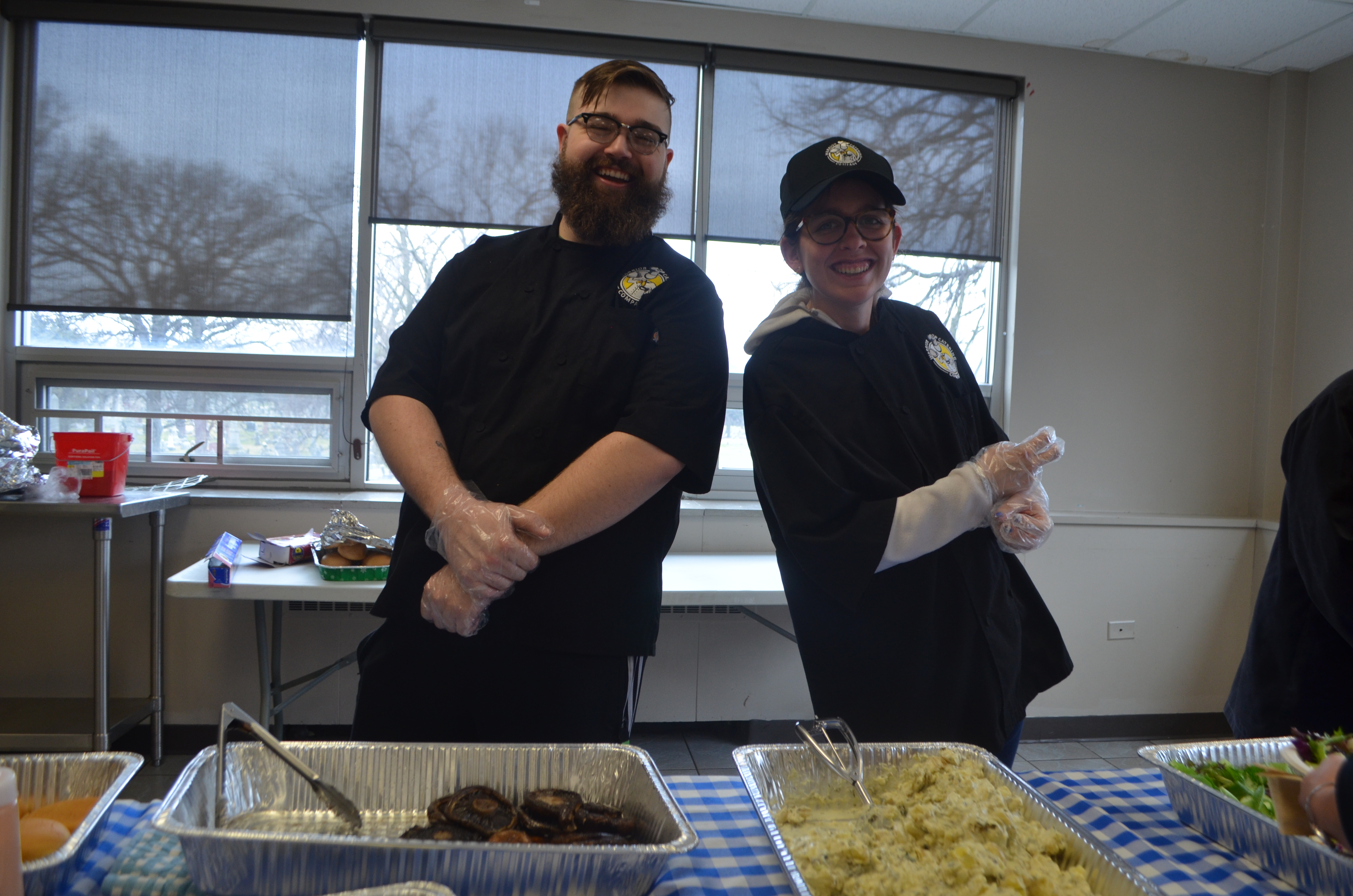 Jackie Finn
Warrior Chef (right)
Jackie is from River Forest and takes pride in being a hard worker. Jackie has a second job at the Brookfield Zoo. Her favorite part about Warrior Catering Company is serving the food. Jackie loves her boss, Joe Hart. Her favorite recipes are the potato salad, pulled pork sandwiches, and grilled cheese. Jackie enjoys working with her friends and is happy to have a job where she can earn some money! One of Jackie's other favorite hobbies is eating, so it makes sense that she is a Warrior Caterer!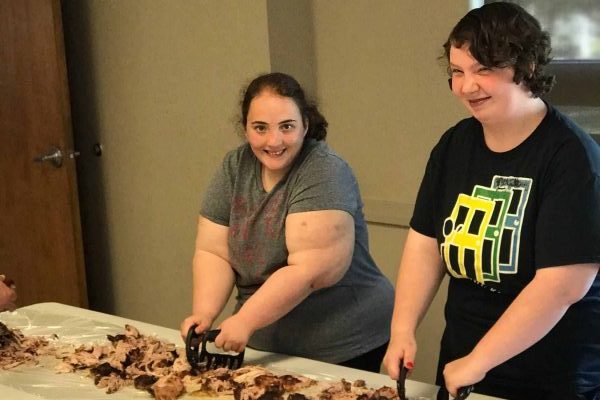 Madeleine Gancer
Warrior Chef (left)
Madeleine lives in Oak Park and loves being at Opportunity Knocks. In addition to Warrior Catering Company Madeleine works at Scratch restaurant in Oak Park as a hostess and front of house employee. Her favorite parts about WCC is serving the food and taking people's orders. Madeleine feels that her knife safety skills have improved. She enjoys interacting with customers.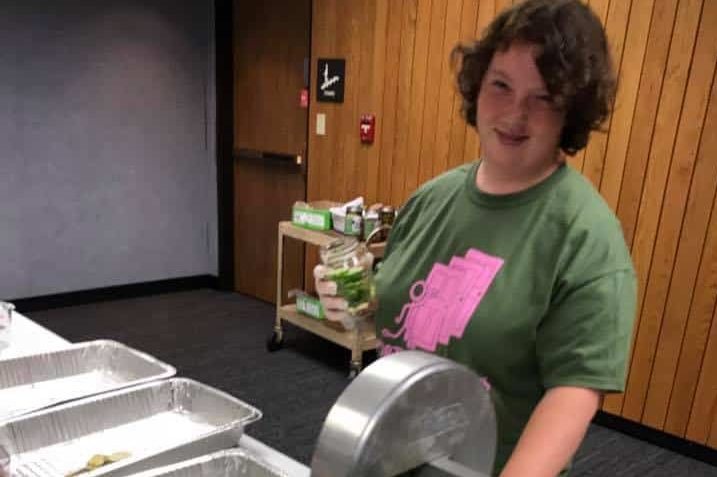 Katrina Jeffries
Warrior Chef
Katrina is a student at the OPRF CITE program and has been a Warrior at Opportunity Knocks for three years. She currently works in the Rush Hospital kitchen in addition to Warrior Catering Company. Katrina's favorite part about Warrior Catering is cooking and introducing herself to new people. Since Katrina has been an employee at Warrior Catering Company she has improved her knife skills and kitchen safety.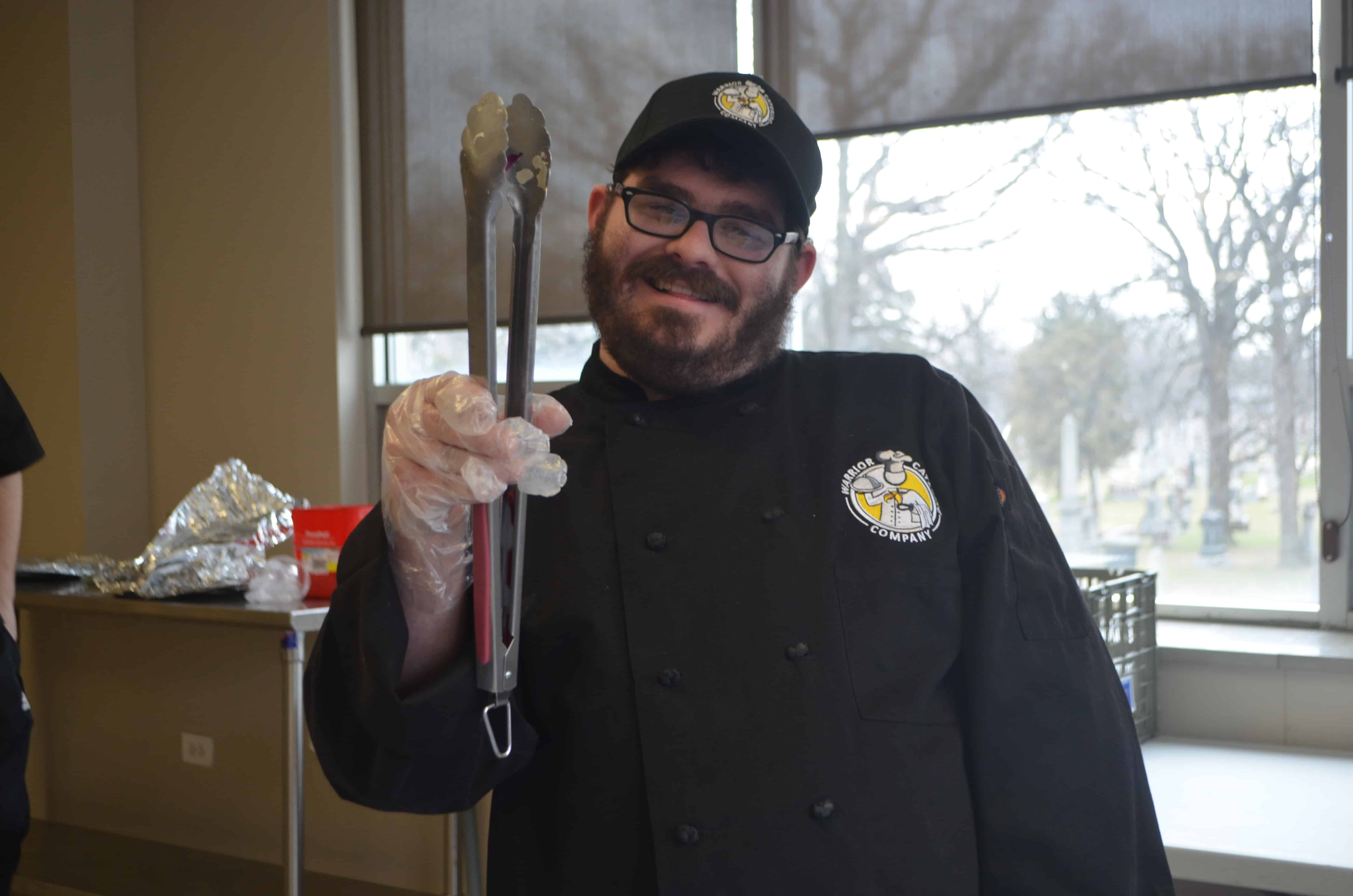 Charlie O'Connor
Warrior Chef
Charlie loves to cook and has learned a lot from his mom, whom he thinks is the best cook ever. He really enjoyed taking cooking classes from Joe Hart and was very excited to be offered a job with Warrior Catering. His favorite things to cook are burgers and chicken wings.
WARRIORS AT WORK  |  BLOG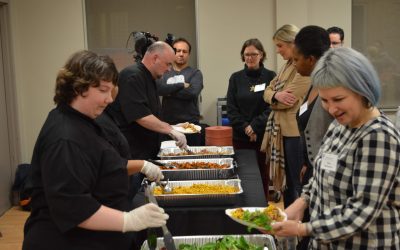 In early February, we were pleased to welcome fellows from the OPRF Community Foundation Leadership Lab for the second consecutive year. The 2019 group of community leaders visited Opportunity Knocks to learn about how we've used creative partnerships and...
read more
SOCIAL ENTERPRISES at OPPORTUNITY KNOCKS
Opportunity Knocks has two social enterprises which provide a revenue stream in addition to meaningful and gainful employment for the Warriors, Knockout Pickles and the Warrior Catering Company.
A social enterprise is a business created to further a social purpose in a financially sustainable way. At Opportunity Knocks, we created our social enterprise for two primary reasons:
To augment the revenue stream from our programs so that we would become more financially self-sustaining; and
To provide opportunities for Warriors to practice important vocational skills in a meaningful employment setting.
Like most things at OK, each of our businesses developed organically out of our Warrior-focused program efforts in the culinary arts. As planning, shopping and meal preparation are integral components of all our programs, it was a natural extension that our enterprise efforts would capitalize on these important life skills. It was also imperative that our Warriors would be involved in all facets of the business operation, from sales and marketing to production and distribution, so that such skills could be utilized in the pursuit of other vocational interests.