WGN-TV CHICAGO'S BEST FEATURES KNOCKOUT PICKLES
Elliott Bambrough and WGN's Chicago's Best crew visit the Warriors and feature our growing social enterprise.
WGN's CHICAGO'S BEST FEATURES KNOCKOUT PICKLES
Elliott Bambrough and WGN's Chicago's Best crew visit the Warriors and feature our growing social enterprise.
A WARRIOR-DRIVEN SOCIAL ENTERPRISE
Knockout Pickles is a small batch line of farm-to-jar artisanal pickles. The production, marketing, sales, and distribution are all performed by young people with intellectual and developmental disabilities. The enterprise is an extension of Opportunity Knocks, a non-profit organization serving young people with developmental disabilities in the near west suburbs of Chicago.
This enterprise marks our launch into the vocational aspect of our mission. Our purpose is to create an operation where Warriors can take full action in all areas of the organization by exploring abilities, building skills and growing the business through their work. At the core alongside the mission work is our commitment to crafting a DILL-icious artisanal pickle.
WHERE ELSE TO FIND KNOCKOUT PICKLES
SUGAR BEET FOOD CO-OP'S WINTER EUROPEAN FARMER'S MARKET
Get your Farmer's Market Fix during the offseason! Visit with favorite farmers and producers, including your favorite Warrior Pickle Team. The market runs on Saturdays from 10 AM to 2 PM at the CO-OP, located at 442 S. Grove in Oak Park, IL. Here are the dates:
November 17  |  December 15  |  January 19  |  February 16  |  March 16  |  April 20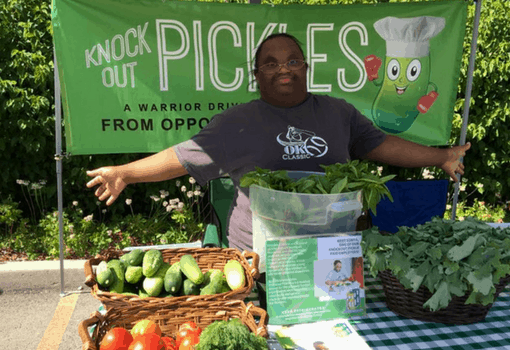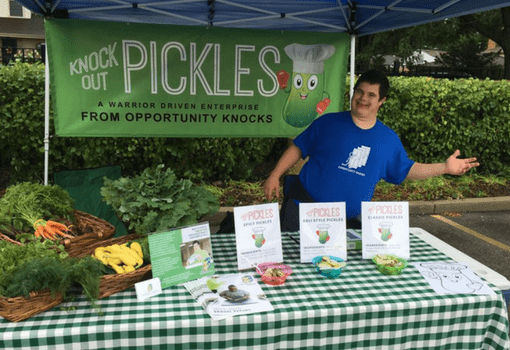 GREAT LOCAL RESTAURANTS
SOLD IN BULK FOR USE ON THE MENU AT THESE LOCAL RESTAURANTS
LOCAL RETAILERS
SOLD BY THE JAR ON THE SHELF AT THESE LOCAL ESTABLISHMENTS
KNOCKOUT PICKLE BLOG
STORIES OF WARRIORS IN ACTION ALONG THE WAY OF GROWING, HARVESTING, PRODUCING AND SELLING KOPS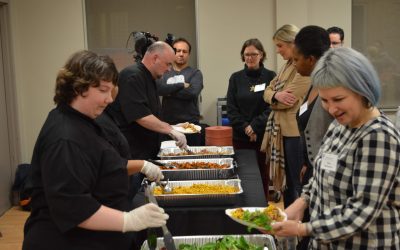 In early February, we were pleased to welcome fellows from the OPRF Community Foundation Leadership Lab for the second consecutive year. The 2019 group of community leaders visited Opportunity Knocks to learn about how we've used creative partnerships and...
read more
SOCIAL ENTERPRISE
Opportunity Knocks has two social enterprises which provide a revenue stream in addition to meaningful and gainful employment for the Warriors, Knockout Pickles and the Warrior Catering Company.
A social enterprise is a business created to further a social purpose in a financially sustainable way. At Opportunity Knocks, we created our social enterprise for two primary reasons:
To augment the revenue stream from our programs so that we would become more financially self-sustaining; and
To provide opportunities for Warriors to practice important vocational skills in a meaningful employment setting.
Like most things at OK, each of our businesses developed organically out of our Warrior-focused program efforts in the culinary arts. As planning, shopping and meal preparation are integral components of all our programs, it was a natural extension that our enterprise efforts would capitalize on these important life skills. It was also imperative that our Warriors would be involved in all facets of the business operation, from sales and marketing to production and distribution, so that such skills could be utilized in the pursuit of other vocational interests.