AUGUST 20 FARM DAY - CANCELED DUE TO STORMS
KNOCKOUT FARM MONTHLY WORK DAY
Help us Knockout the To-Do List
The OK Farm is in full swing and we need volunteers to come out and get their hands dirty! We will be on the farm from 5:30 pm – 7:00 pm. Please join us as we connect, learn and grow together.
KNOCKOUT FARM MONTHLY WORK DAY
Help us Knockout the To-Do List
The OK Farm is in full swing and we need volunteers to come out and get their hands dirty! We will be on the farm from 5:30 pm – 7:00 pm. Please join us as we connect, learn and grow together.
COME & GET YOUR HANDS DIRTY DOWN ON THE FARM!
Volunteer tasks range from pulling weeds, planting and harvesting, turning compost, spreading mulch, and anything else that may need to be done that day. (You will be notified by 12:00 pm in the case of inclement weather if the work day will be canceled).
Water will be available, but please be sure to bring a water bottle to fill up. The OK Farm also has sunscreen, gloves, and any farm/garden tools we will need. Also, be sure to wear clothes that can get dirty, close-toed shoes, and a hat is recommended.
Please Note: Warriors are welcome however, staff will not be provided for these work days. Please email aniki@opportunityknocksnow.org for accommodations and questions.
Seven years ago an 8-year-old named Kate asked if she could have a lemonade stand to raise money for Opportunity Knocks. She met with OK founders Mike & Phil Carmody to discuss her idea, and a friendship and fundraiser were born. Opportunity Knocks is a nonprofit serving adults with developmental disabilities and their participants are known as warriors for their strength and perseverance. Kate hoped to raise $50 and ended up raising over $500 with the help of family, neighbors, friends and one very generous community.
The August lemonade stand eventually became an autumn cider stand and more kids and families joined forces to grow "Knocktoberfest." The kids grow the event each year but the constant is the generous community and small businesses that come out to support the kids' efforts. Knocktoberfest volunteers are fondly called "Knockstars" and they range in age from babies to high schoolers. The babies UP the Knockstars cute quotient and the kids work hard organizing, baking, decorating and fundraising.
Last year the kids raised over $11,000 from online donors and cider stand donation jars. Families bake treats, a great aunt ships handmade doll clothes to sell from Utah and homemade Italian bread sells out in minutes. Piggy bank jars are emptied and we raise unbelievable sums because of this dedicated group of kids.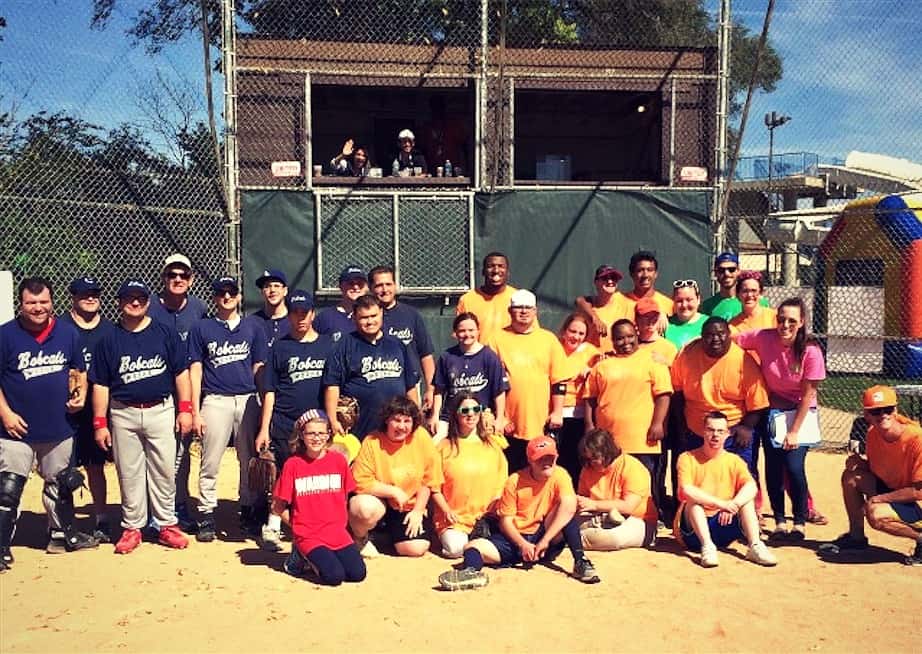 Can't stop by? You can still get involved!
If you can't make it to the event, donations to Knocktoberfest can be made here! All donations are tax-deductible and go toward supporting Opportunity Knocks.
General operations and the development and execution of programming are largely funded by the generosity of individual donors. Your donation helps Opportunity Knocks continue to engage young people who have developmental disabilities.Thank you for your support!
The Knockout Farm connects to all of our programs in an experiential and therapeutic way, but it is also a food production operation that thrives and yields an efficient harvest that helps us grow our nutritional and wellness programming, while also offering great variety for our catering menus and artisanal pickle production line. Here's a brief rundown of our seasonal totals from 2018.
Total # of Crops in 2018 Season
Total # of Crops Grown from Seed
Season Harvest Total in lbs
An annual event where neighborhood kids work together to raise funds to help an inspiring group of Warriors at Opportunity Knocks. Kids of all ages plan and organize the event and often show up with their piggy bank and tooth fairy money to donate to the cause.
This year's Knocktoberfest will feature Oktoberfest food offerings from the OK enterprise, Knockout Catering, and Chicago Bears football! Stop by for warm apple cider and other fall treats or stick around and enjoy all there is to offer!