Opportunity Knocks is dedicated to enriching life and community. We exist to support people with intellectual and developmental disabilities as they live, work, learn, grow and connect within their community.
We believe in a dynamic, person-centered and community-based approach to programming that engages the voice of all Warriors, thrives on interdependent connections, encourages exploration,  centers on holistic wellness and healthy relationships.
Program Volunteer

Event Volunteer

Auxiliary Board Member

Junior Board Member

Program Staff

Administrative Staff
AUXILIARY BOARD
The Auxiliary Board aims to raise funds to support the Opportunity Knocks Mission by planning, organizing and executing annual fundraising events.
Interested in learning more about the Auxiliary Board, allocation of funds, meeting dates or membership requirements?
What is the Auxiliary Board?
The  Auxiliary Board is a group of 25-35 young adults who volunteer their supportive efforts to the planning, promotion and execution of the major fundraising events of Opportunity Knocks. These events are accountable for nearly 70% of the funding that supports the organization. In addition to their event-related efforts, numerous members sit on committees within other areas of activity in the organization, such as finance, strategic planning, development and others. On top of that, they are often called upon to donate in-kind, their special skills. Several members have assisted in developing graphic design materials, marketing plans, budget development, real estate assessments, and legal advice.
The Auxiliary Board has been key in raising more than $545,000. Members also chipped in to represent a large percentage of the nearly $224,000 of in-kind donations that Opportunity Knocks has solicited over that same period of time. This fundraising allowed Opportunity Knocks to develop and launch a new day program, staffing it as needed with a liberal approach to program development through technology, peer-led curriculum and many other innovative techniques.  
The Auxiliary Board is a self-driven recruiting machine! The scope has spread from one network of friends and families in the OPRF area to many more in other suburban and Chicago-area neighborhoods. The reach is due the A-Board's grassroots, word-of-mouth promotion. They promote the organization and the events. Their discussion leads to additional members seeking interest in this young service organization.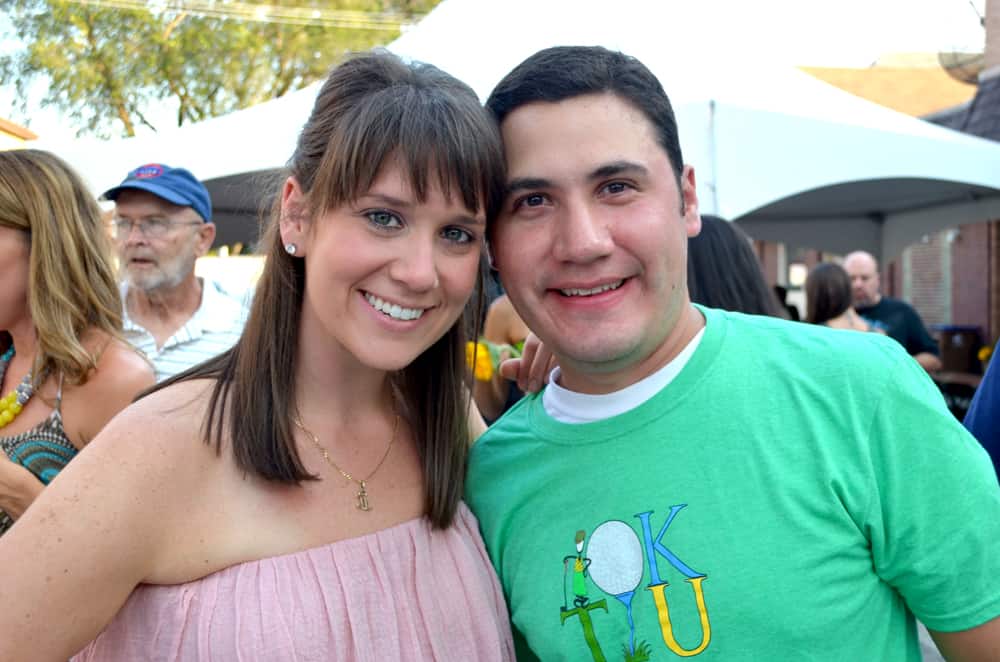 Mike Fair | President
On right, with Jeanette Stamm.
Background: Project Manager, Technology & Business Solutions
Why OK?: The passion and dedication each member of the organization possesses, from the volunteers to the Board of Director's, really inspires a person to become part of something bigger than themselves. OK is doing some amazing things and the joy I see in the Warriors faces while in the Life Shop and After Opps Program, is reason enough to become a part of this organization.
Favorite OK memory: There are so many…how do I choose one? My favorite of all-time would have to be the Flash Mob at the 4th Annual "A Night for Opportunities" Gala! So much fun and the amount of people that participated was astounding.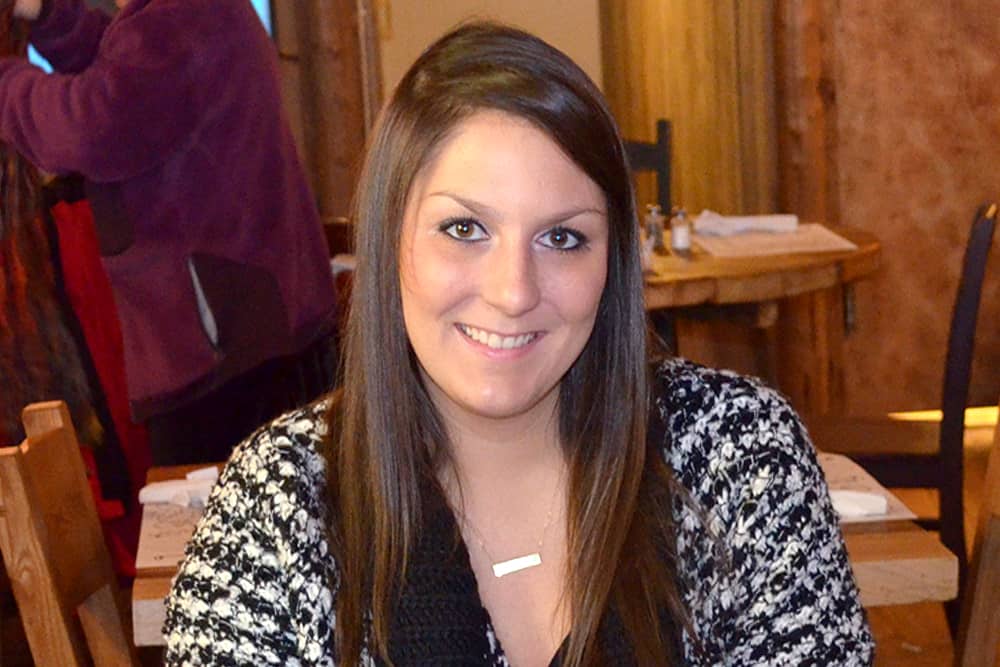 Chelsea Donoghue | Vice President
Background: Real Estate, Assistant Office Manager
Why OK?: I have grown up around both the Warriors and the wonderful people who started and run the organization. I am honored to be a part of such an incredible mission!
Favorite OK memory: The OK Classic!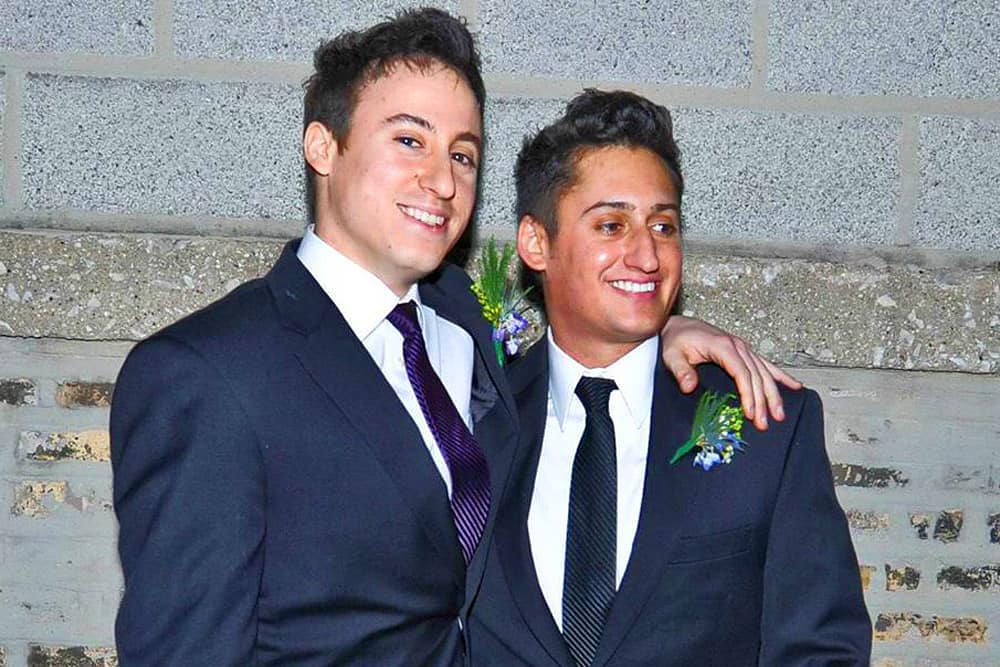 Dan Raspatello | Vice President
On left.
Background: Attorney, Employment & Labor
Why OK?: Providing service and opportunities to the developmentally disabled is something that I have been passionate about since I was in high school. Opportunity Knocks is amazing organization created to do just that. I am honored to be part of it.
Favorite OK memory: Watching participants at the OK Classic and Chili Cook Off get way, way too competitive.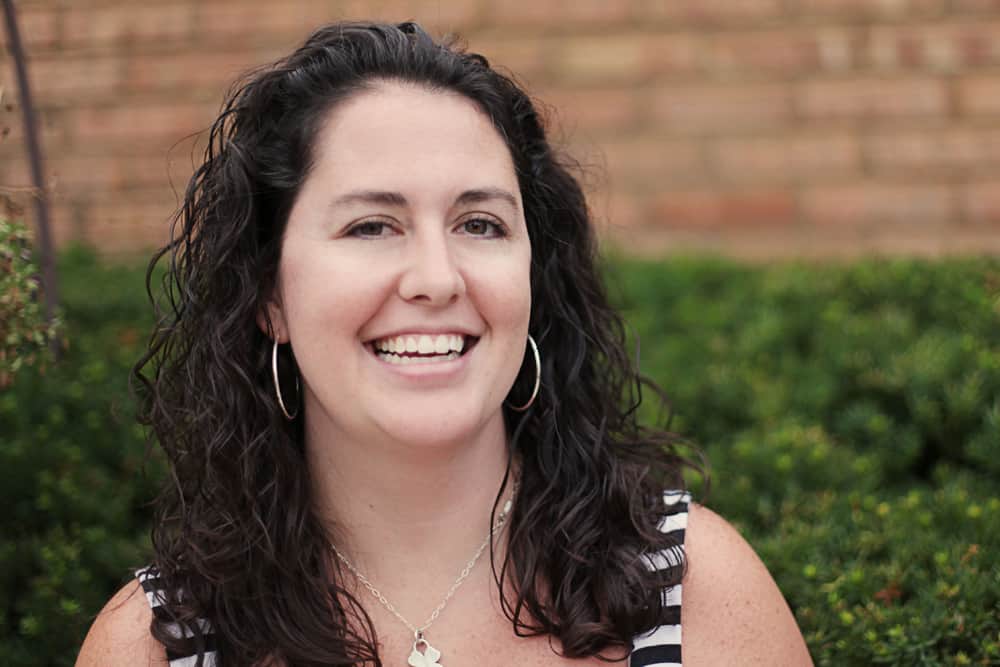 Kara Riley | Secretary
Background: Speech Language Pathologist
Why OK?: I feel that it is important to provide opportunities to young adults with special needs. As a team we can provide the Warriors with resources and skills to pursue their dreams. Being a part of Opportunity Knocks allows me to help in a way that I never thought was possible.
Favorite OK memory: I have thoroughly enjoyed all the events I have been to the past few years, but my favorite moment had to be the doughnut eating contest at the 2014 Chili Cook-Off!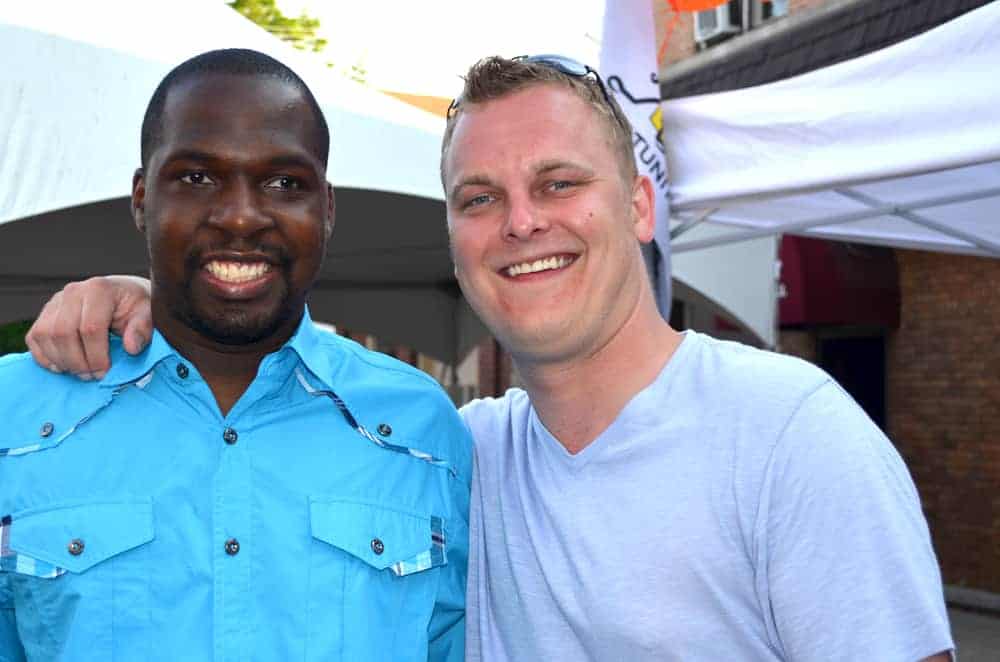 Jon Adelman
On right, with Jarvis Hart.
My name is Jon Adelman, My favorite memory of OK is being a part of the development stages. The Carmody crew, myself and many others came together and developed the beginning plans for OK. After helping with that process I took on the role of Community Service and Self-Advocacy program developer. I took a step back 4 years ago so I could continue my education and focus on Special Olympics coaching. I have been the head and assistant coach for many of the Special Olympic sports connected with OPRF for 10 years where I have also worked in Special Education Department for 11 years. I joined the Auxiliary Board because OK is very important to me and has made me into a better person. I received a M.ED from the University of Kansas and I am in the final stages of a M.Ed from Purdue University. A special thanks goes to all of the WARRIORS! You teach me something everyday!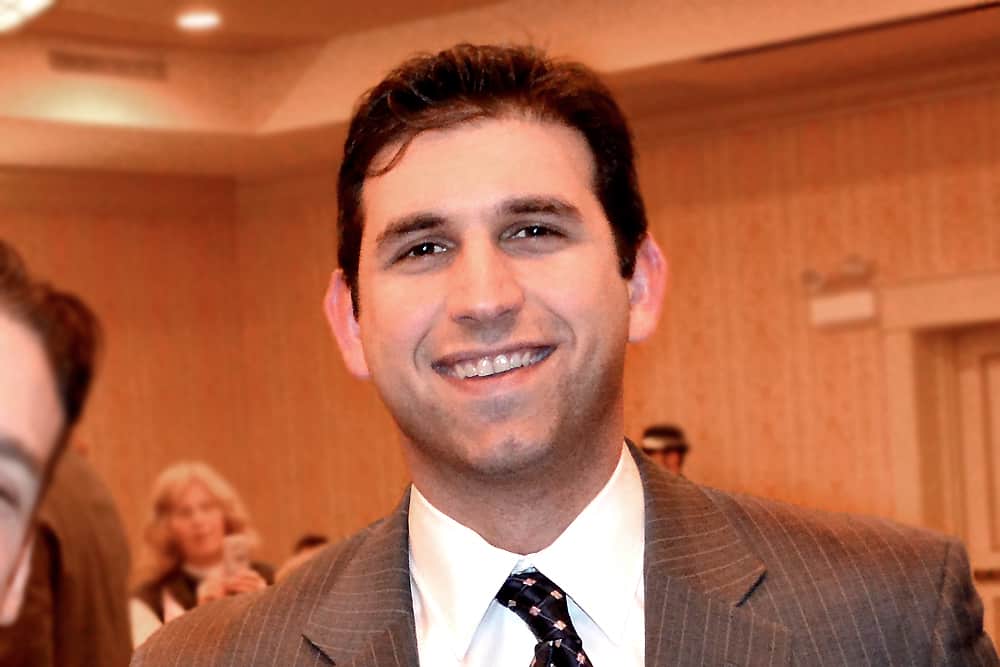 Michael Alkaraki
Background: Attorney
Why OK?: Service to persons with developmental disabilities has always been a family value, driven particularly by my mother, who dedicated her career and much of her personal life to advancing special education in the Chicago Public Schools and providing guidance and support to her students' families outside of the classroom.
Favorite OK memory: The OK Classic, every year.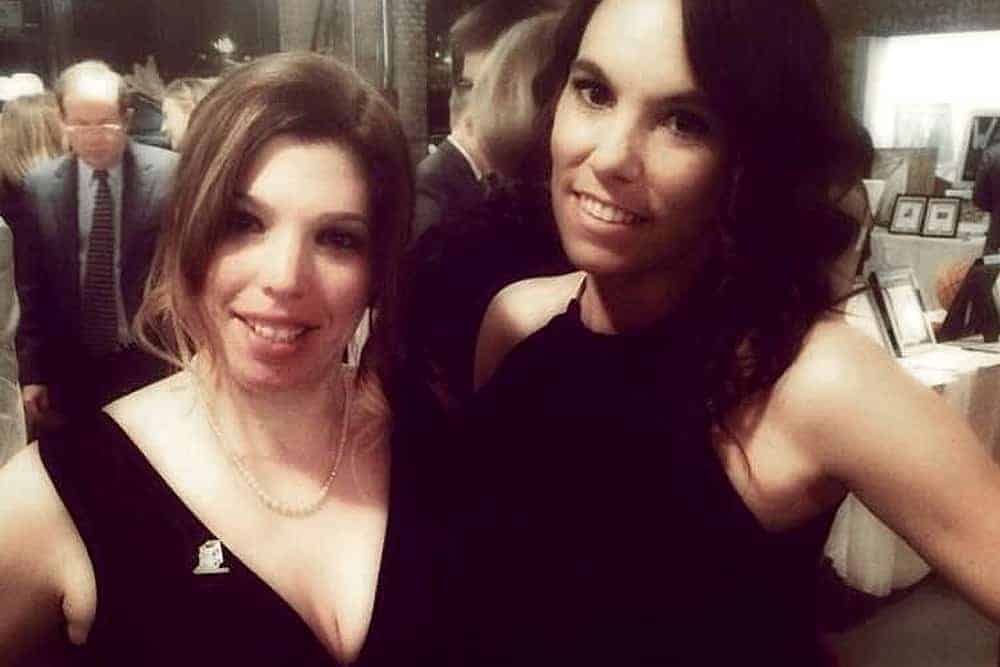 Beth Allabastro
On left, with Tiffany Fustar.
Background: Recreation Therapy and Elementary Education
Why OK?: Developing  recreation programs for individuals that are developmentally disabled is something that I became interested in during my undergraduate internship. I loved seeing the job on the participants face when they conquered the climbing wall, made a basket or created a piece of art work. I love the OK does just that!
Favorite OK memory: OK Classic. I love to watch the warriors form relationships with their teams during the event and beyond.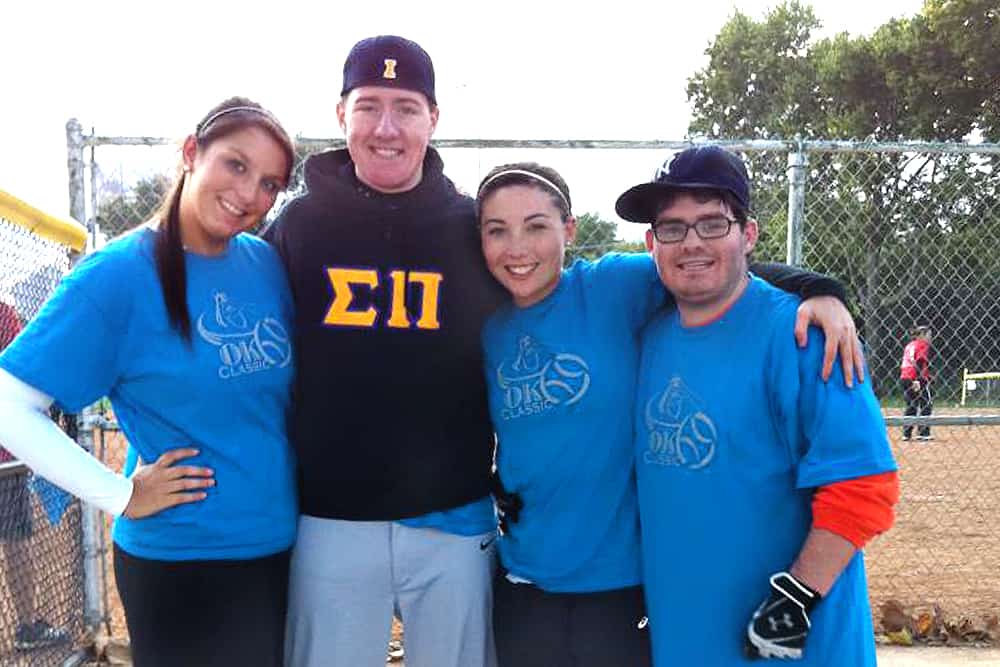 Megan Bruce
Background: Campus Recruiting
Why OK?: It's incredibly empowering to see a local organization do so much for their community, especially when I have grown up around both the volunteers and the Warriors. I couldn't think of a better way to spend my time than championing a great cause with thoughtful, driven, loving, and fun people. It's an honor to have the opportunity to share my skills and enthusiasm, helping OK to continue to grow and reach more people!
Favorite OK memory: OK classic. I love getting back to my softball roots and the event just gets bigger and better every year!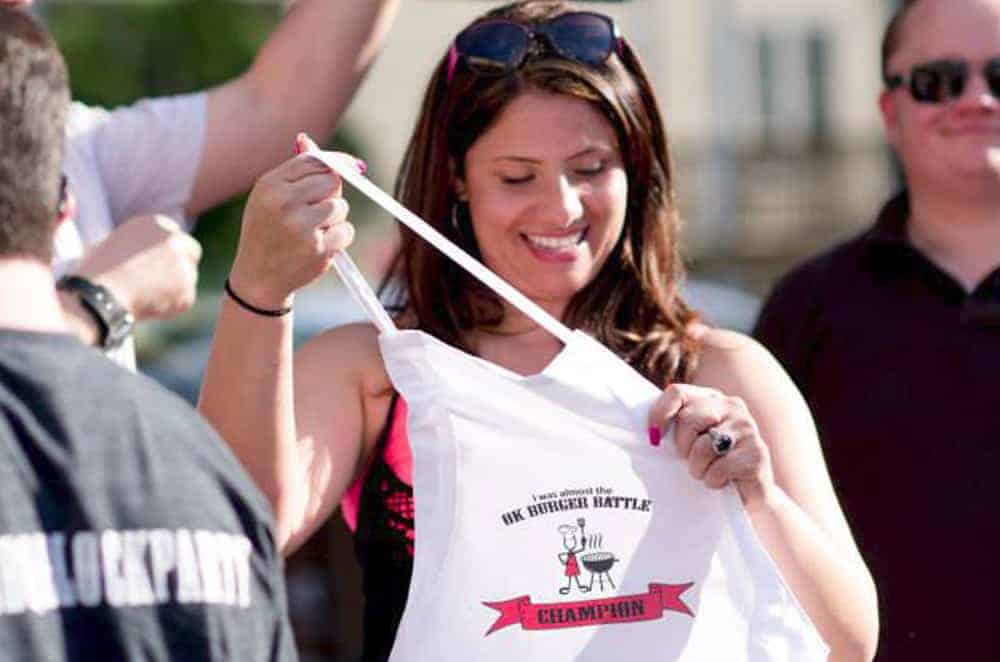 Marcela Caronti
Background: I'm a chilean native immigant and recent became US citizen! During the day I follow my passion in a career in Global Procurement and at night I follow my second passion as a certified Zumba instructor. I also have the privilege of being happily married to my best friend and being a mother to the two best kids in the world!
Why OK?: I got into OK through my husband. After being introduced to OK it just made sense to devote my free time to this wonder of an organization. OK is not just a charity, it provides tools and avenues to empower those with disabilities and that is a mission I am very much in alignment with. I believe in the organization and in what it has been able to offer to the community.
Favorite OK memory: My favorite OK memory is the 1st annual burger battle! I entered the contest and took 2nd place! The event is awesome and every year since I volunteer in this event in addition to the ok classic and chili cook-off.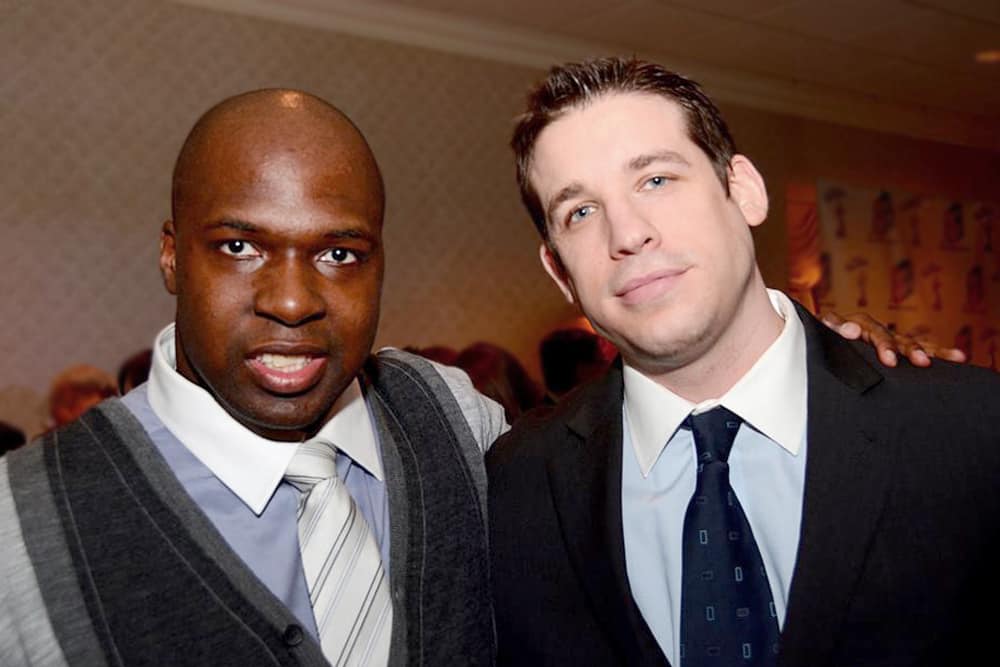 Tim Caronti
On right, with Jarvis Hart.
Committee(s): The Chili Cook Off, A Night for Opportunities Gala, Tee It Up Golf Outing, OK Classic Softball Tournament
Background: Marketing, Business Owner
Why OK?: Love the organization, from the participants to the staff!
Favorite OK memory: My favorite moment at OK was going to the White Sox game and watching Charlie throw out the first pitch! Had a great time and was super proud to see Charlie and Jarvis on the jumbotron!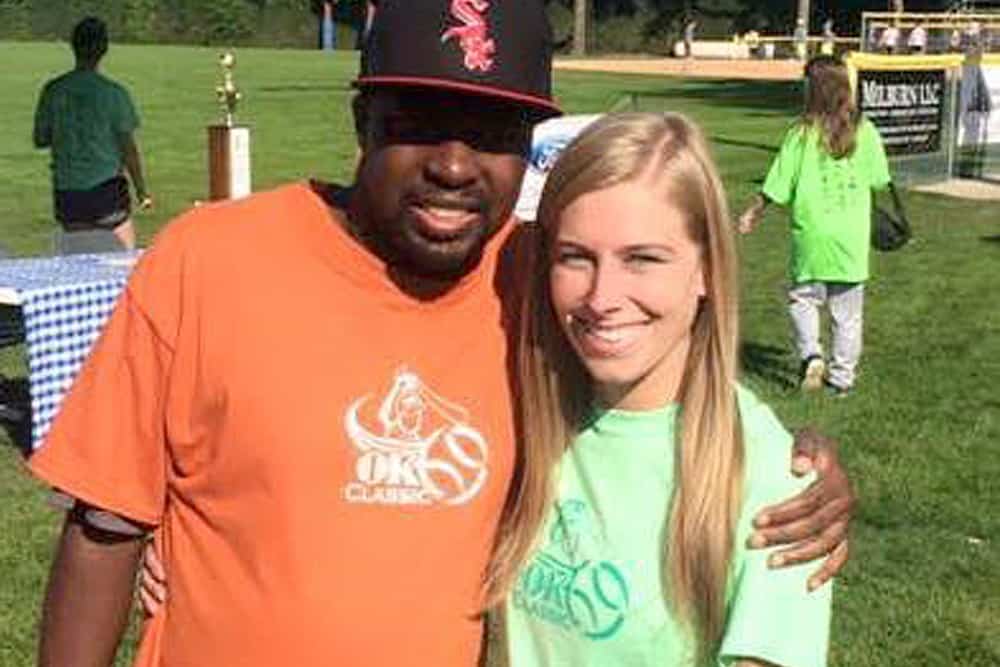 Shea Collins
Background: College grad and full time nanny
Why OK?: It all started when I volunteered at a chili cook off and enjoyed every bit of it!
Favorite OK memory: Too many favorites but I do enjoy the ok classic and block party!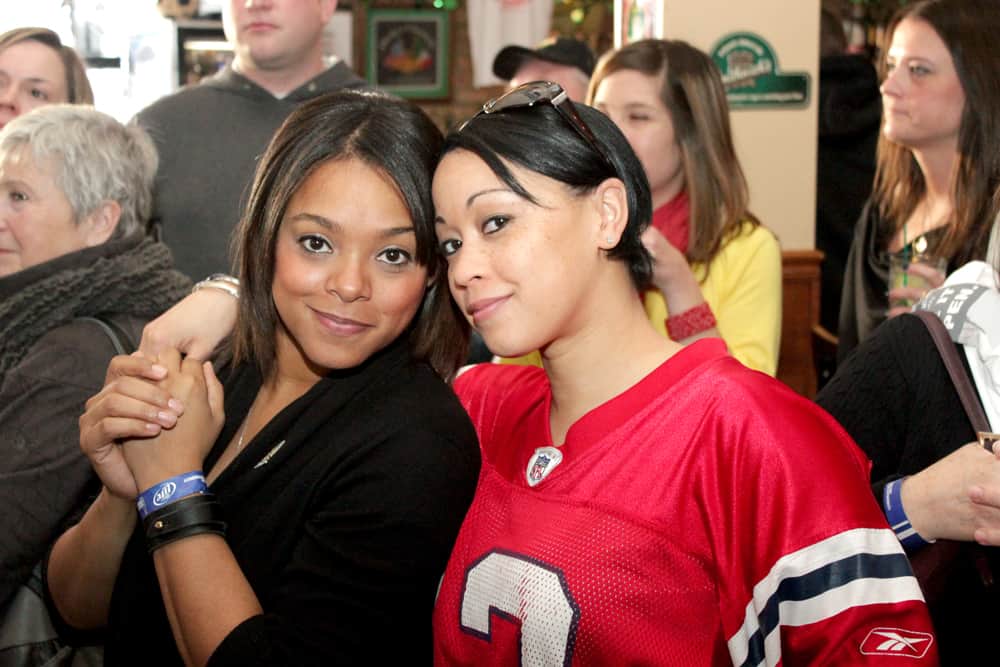 Samantha Deuchler
On left, with Chanelle Moragne.
Background: Police Officer
Why OK?: Enjoy helping Opportunity Knocks raise money through their events to ensure the young adults are receiving the best programs possible for them. Through fundraising breeds awareness of the Warriors and their different developmental disabilities.
Favorite OK memory: My favorite memory of OK is when I came to the center to speak about safety tips and after I demonstrated how, as an Evidence Technician, I lift for fingerprints at crime scenes. The Warriors put their hands on glass windows at the Center, I lifted their prints and they got to take the print cards home with them.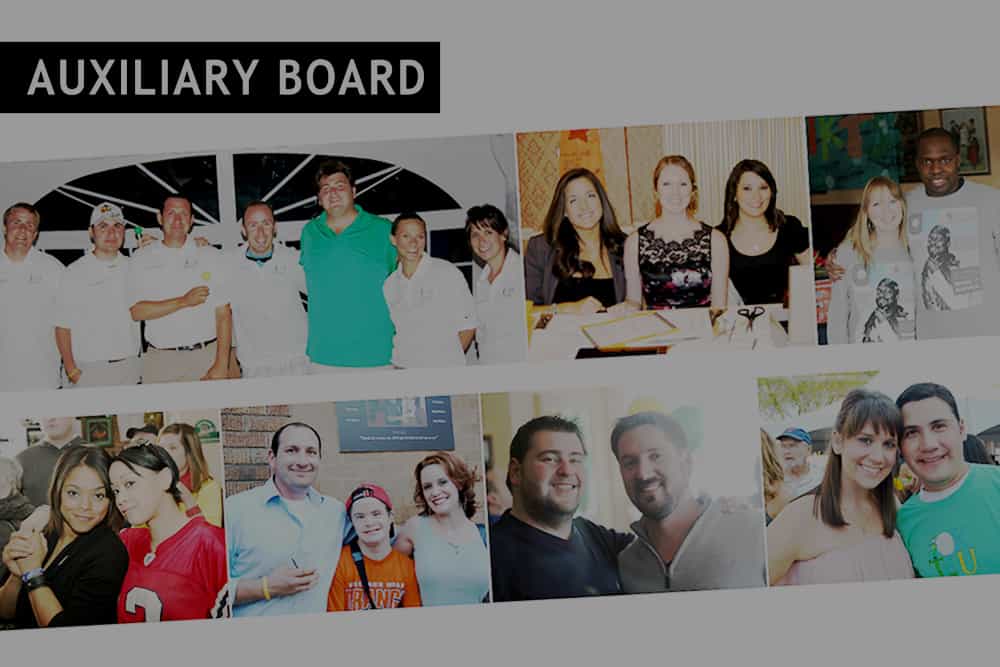 Bill Doerrer
Background: 
Why OK?:
Favorite OK memory: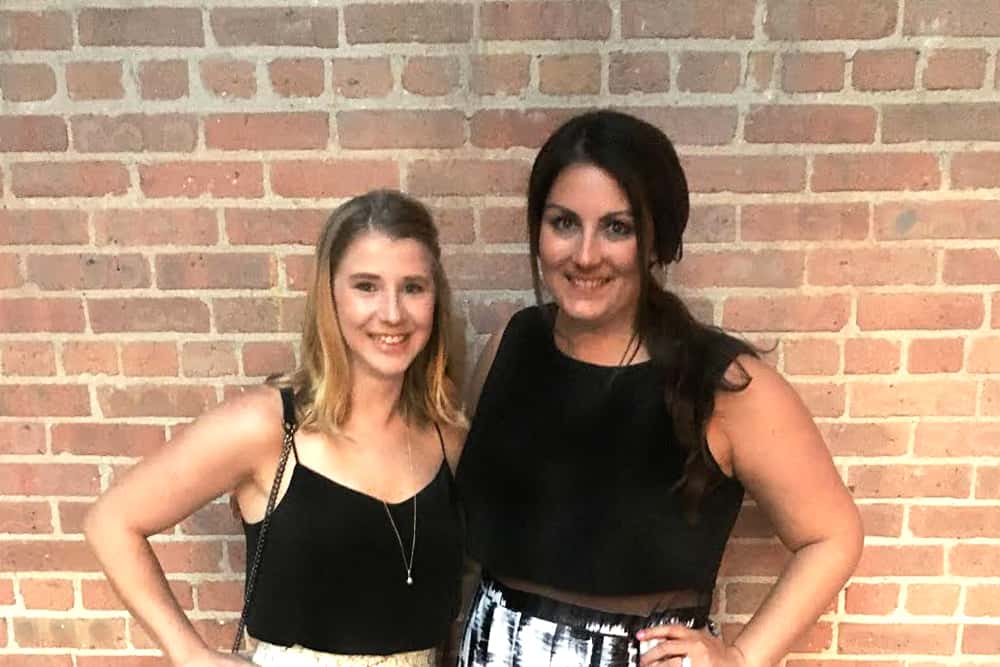 Aly Euler
On left, with Chelsea Hague.
Background: Account Manager, Event Marketing
Why OK?: I've been attending OK events and hanging out with the Warriors for the past few years with my BFF Chelsea, and just absolutely love what the organization does for our community. I love that everyone who is involved is so passionate about the organization and its mission, and also that it's local to my hometown!
Favorite OK memory: The OK Classic is an event I look forward to every year! It's so much fun to see the community come out in droves to support OK, play a little softball, listen to some music, and have a few beverages. And it never gets old seeing adults playing softball in fairy wings and clown costumes!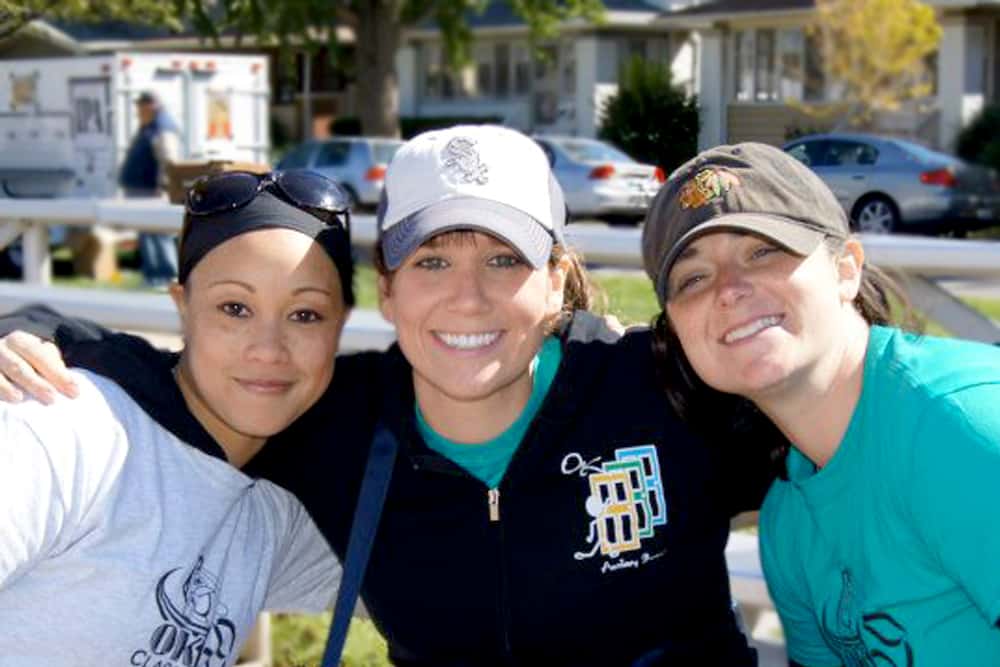 Jeanette Fair
Center, with Chanelle Moragne and Molly Miller.
Background: Marketing
Why OK?: After seeing the great efforts of those who put so much into OK, and the results that come from it, such as the attitude, team work, and sense of community of the Warriors and staff, I knew I wanted to be a part of this great community.
Favorite OK memory: It would hands down have to be the Warrior Dancing with the Stars performances at the 3rd annual Night For Opportunities Gala event. It was definitely a star-studded event.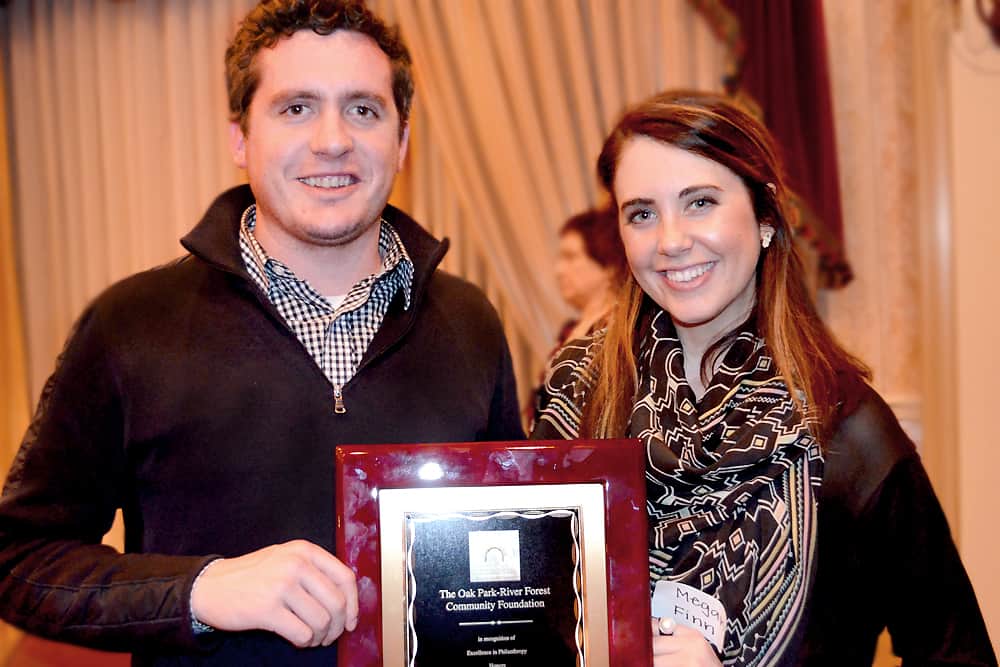 John Finn
On left, with Meghan Finn.
Background: Sales Director, Manufacturing
Why OK?: Opportunity Knocks to me is a testament to the many things that make the communities of Oak Park and River Forest great. The physical locales of these townships are already desirable from an urban-suburban standpoint for a multitude of reasons. However, it is the people in these communities that are what have made me the person I am today. These same people the reason why Opportunity Knocks has had an "opportunity" to be successful and my sister Jacqueline and her fellow Warriors should feel blessed.
Favorite OK memory: I can't really say I have one defining moment that has resonated with me since the inception of this great organization. It has really been the whole body of work and the tireless efforts of the Carmody brothers and their combined visions that keep us on an upward path. It's great to watch our constituency grow as we move onto our next 5 year plan. It is also truly a testament to the many Wizards of Oz so to speak on both boards.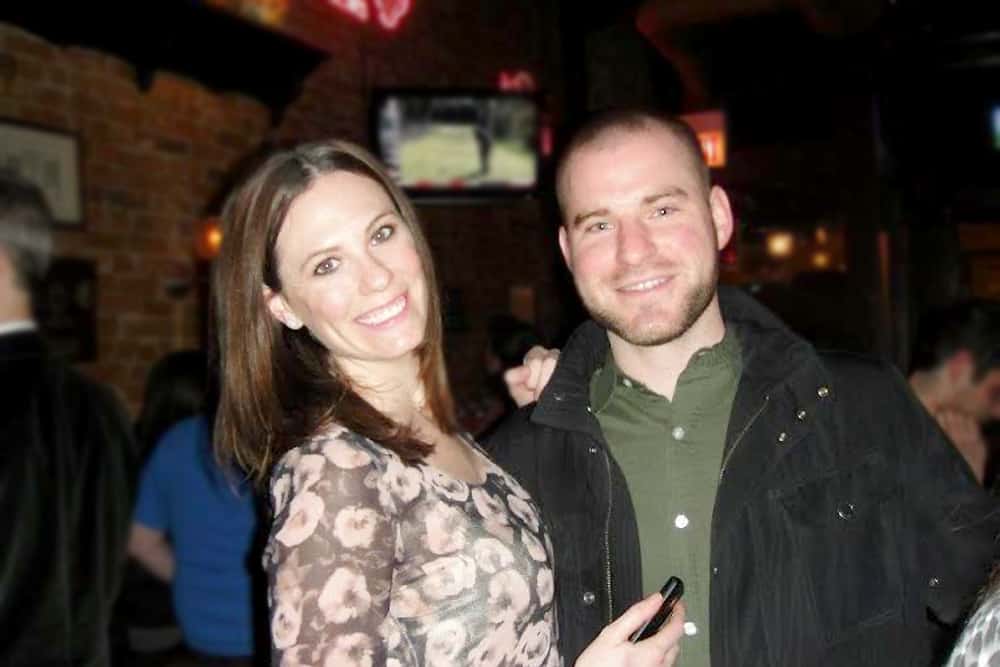 Robin Flaherty
On left, with William Flaherty.
Background: Sales, Director of Sales
Why OK?: Opportunity Knocks is a fabulous organization run by amazing people for the good of the community…what's not to love!? The board members and participants are so dedicated to the organization, it motivates everyone involved.
Favorite OK memory: Being a lover of all things arts and crafts, I love the warrior art projects that are available for purchase and/or auctioned off at events. I now have a very large collection of beautiful things made by the wonderful people at OK. Every time I see the bird house in my parents backyard, or my dog runs by wearing her fancy collar, I smile.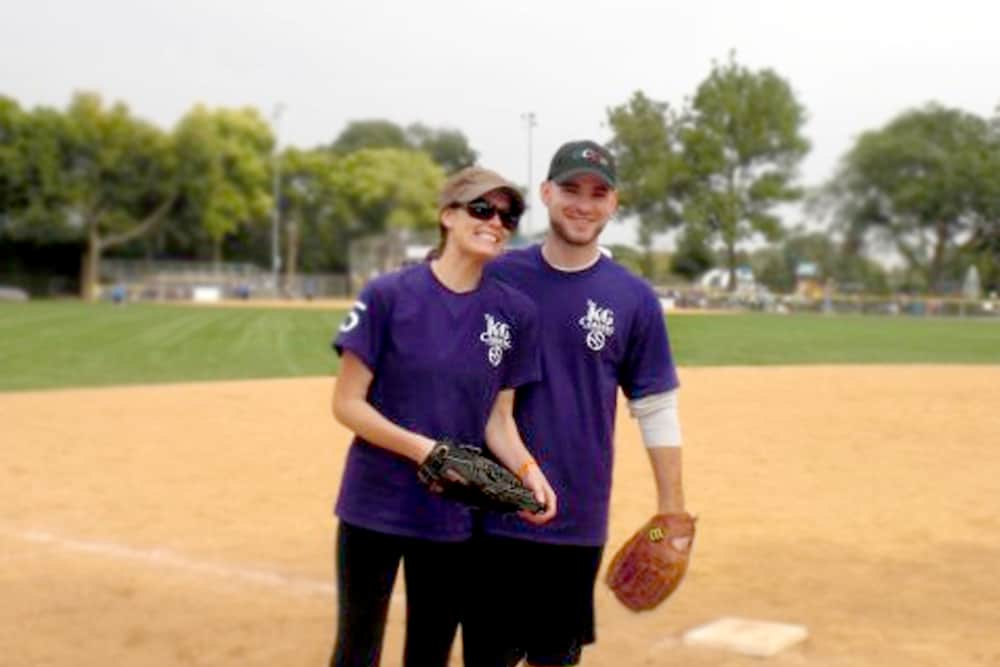 William Flaherty
On right, with Robin Flaherty.
Committee(s): Tee It Up Golf Outing, The OK Classic Softball Tournament
Background: Tax and Financial Services Professional, Manager
Why OK?: OK is an amazing organization run by great people doing awesome things in the community. I am honored to be a part of it.
Favorite OK memory: I always enjoy the festivities at the OK Classic every fall…awesome event!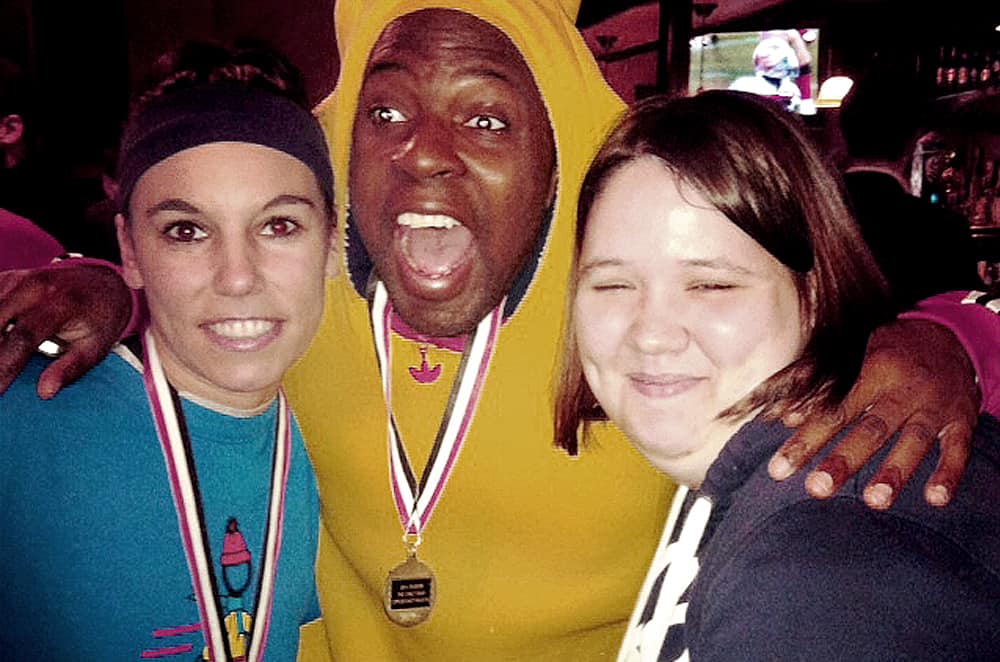 Tiffany Fustar
Far left, with Jarvis Hart and Warrior Tori.
Background: Banking, Operations Supervisor
Why OK?: Over the last couple of years I have had the chance to really bond with the Warriors and have witnessed how OK truly affects their lives in a positive way. The interactions I've had with the warriors and their families has really inspired me to get involved and I am very honored to be a part of OK!
Favorite OK memory: At the OK Classic a few years ago I got a HUGE running hug from a warrior for my donation. I will never forgot that!!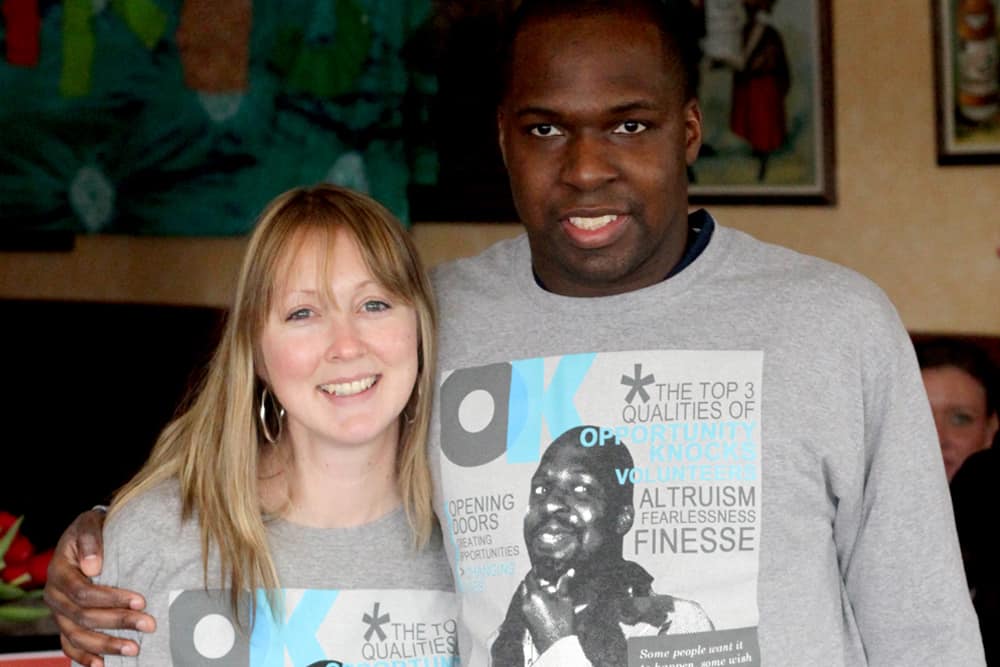 Megan Harrison
On left, with Jarvis Hart.
Committee(s): The OK Chili Cook Off, The OK Barbecue Block Party
Background: Special Education, Counseling
Why OK?: I truly believe all children and adults with disabilities deserve quality of life and idividualized education and supports to become active citizens. Young adults with disabilities have limited access to services after high school and Opportunity Knocks is working to change this and therefore I am happy to be an agent in this change.
Favorite OK memory: My favorite memories include watching the Warriors play softball at the OK Classic each year. Inclusion is a wonderful sight and it warms my heart to see the softball teams practice patience and the Warriors participating with huge heart.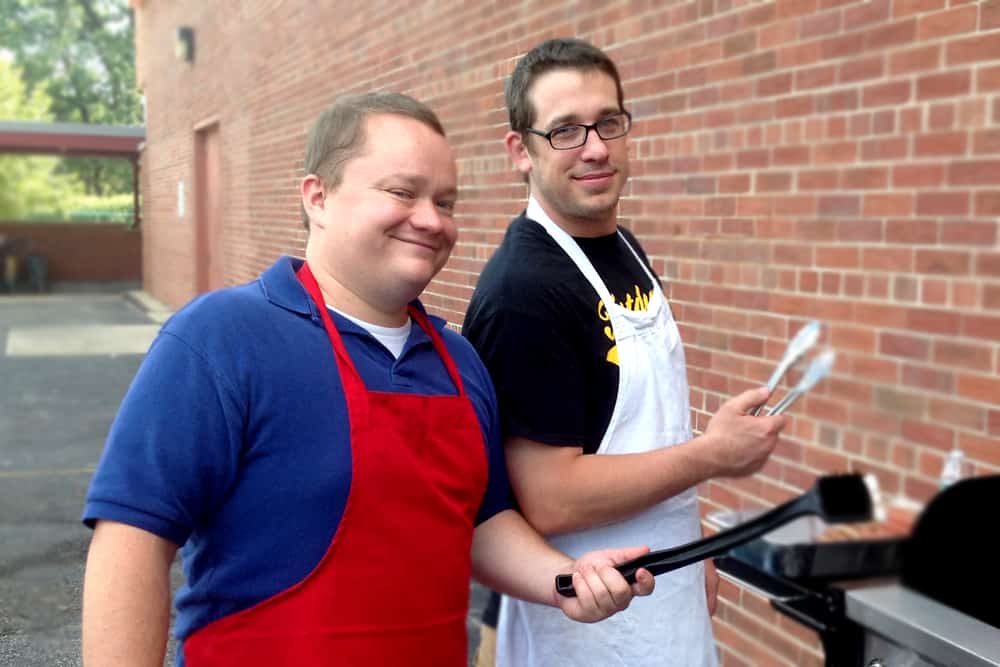 Edward Lee
On left, with Tim Caronti.
Background: Sales/Marketing, National Sales Manager
Why OK?: I enjoy working with the Warriors and the OK Board Members. I believe in working with our community in order to make a difference.
Favorite OK memory: Love the golf outing. Tons of fun!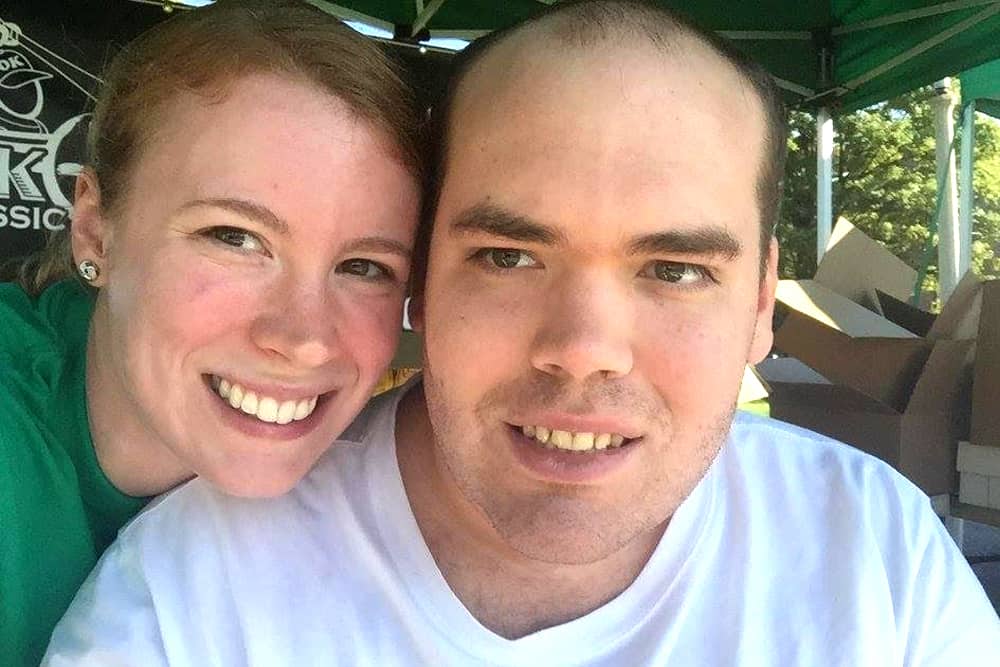 Sarah Magner
Sarah (Wallace) Magner on left with Danny Wallace volunteering at the OK Classic
Background: Consultant, Project Management & Change Management
Why OK?: My brother has been involved in OK programming since its inception and the great work the organization is doing inspired me to become more involved first as an event volunteer and now as an Auxiliary Board member. I'm excited to be part of this incredible organization as it continues to grow and expand its programming to more participants, helping to fill a major gap in the community for young adults with special needs.
Favorite OK memory: The Night for Opportunities Gala is always my favorite event of the year. Each year it is hosted in a fun, unique venue with great food & even better company. I always love seeing the auction items that the Warriors have worked on and donated to raise funds for the organization!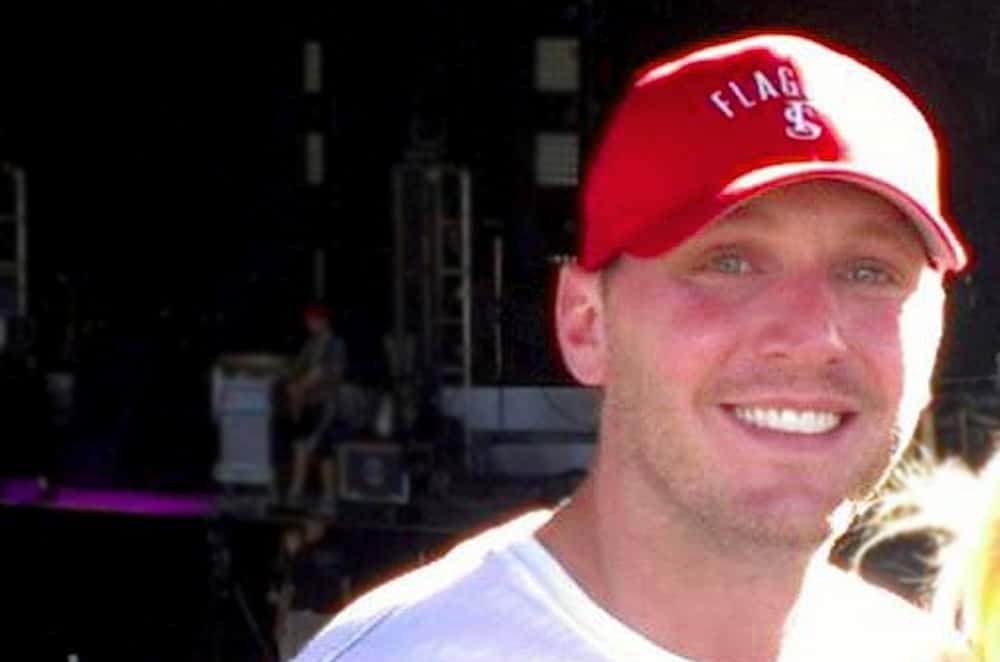 Steve Mayer
Background: Bar Industry, Self Employed
Why OK?: After witnessing the fantastic things that happen through OK, I immediately wanted to become more involved. I see the look on the Warriors faces every chance I'm around, and I see the impact that OK has in their lives. I think its truly a special thing in life when you can help someones life become better and I look forward to trying to do just that. That is what I hope to get from being able to join the OK Auxiliary Board, the look on a Warriors face that something I did somehow made their life just a little bit better.
Favorite OK memory: The OK Tee It Up and the OK Classic Softball Tournament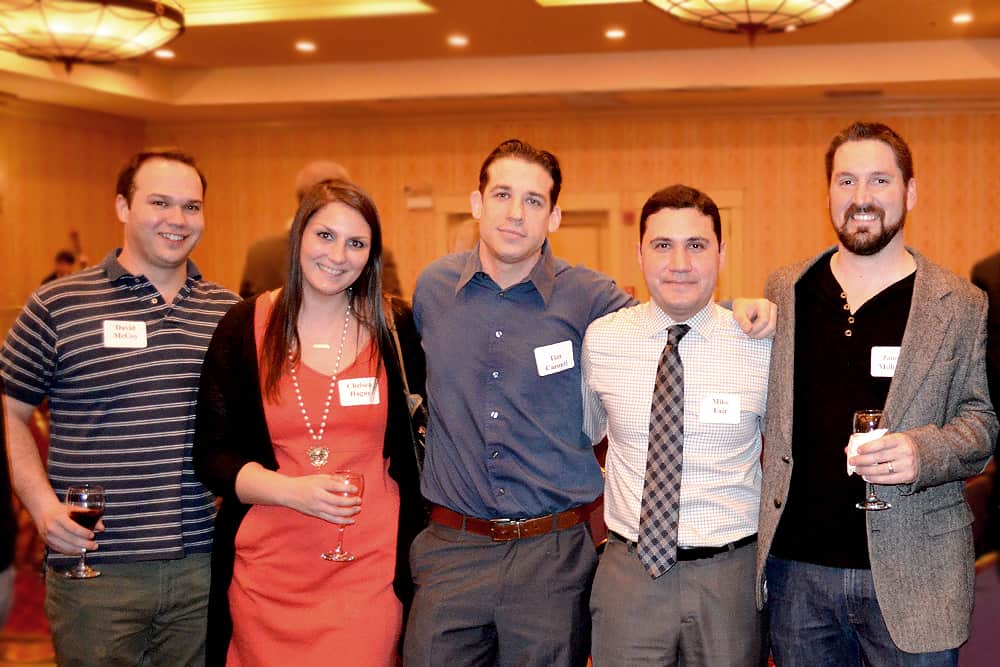 David McCoy
Far left, with Chelsea Hague, Tim Coronti, Mike Fair and James Milburn.
Background: Finance, Analyst
Why OK?: Opportunity Knocks provides a great service to the members of the community with developmental disabilities and their families. As someone who has a sister that is developmentally disabled, I recognize the value in the services provided by Opportunity Knocks and how much it means to the participants and their families. I am honored to be part of such a great organization!
Favorite OK memory: The OK Classic softball tournament.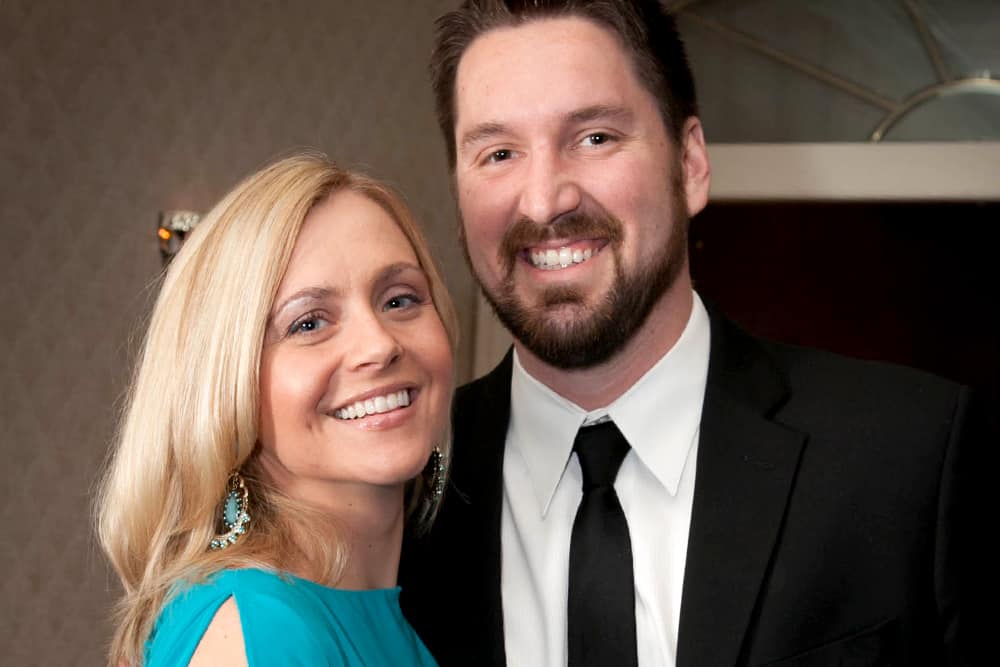 Jessica Milburn
On left, with James Milburn.
Background: Education, Full Time Momma
Why OK?: O.K. is a selfless and committed organization that gives loads of love and support to our warriors. I couldn't be prouder to give back to the warriors who bring so much happiness in our lives.
Favorite OK memory: Bowling, and watching the warriors perform every year at the gala!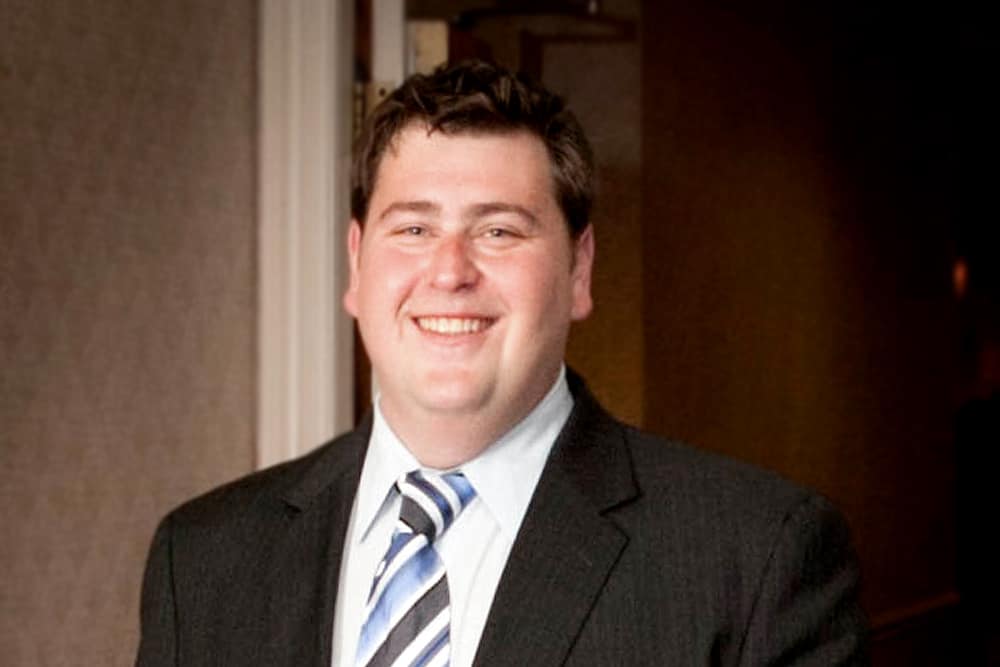 Mike Phelan
Background: Education, Teaching Assistant
Why OK?: I want the participants to have as much fun in their lives as possible. I hope to help in that goal.
Favorite OK memory: Being there the day we opened.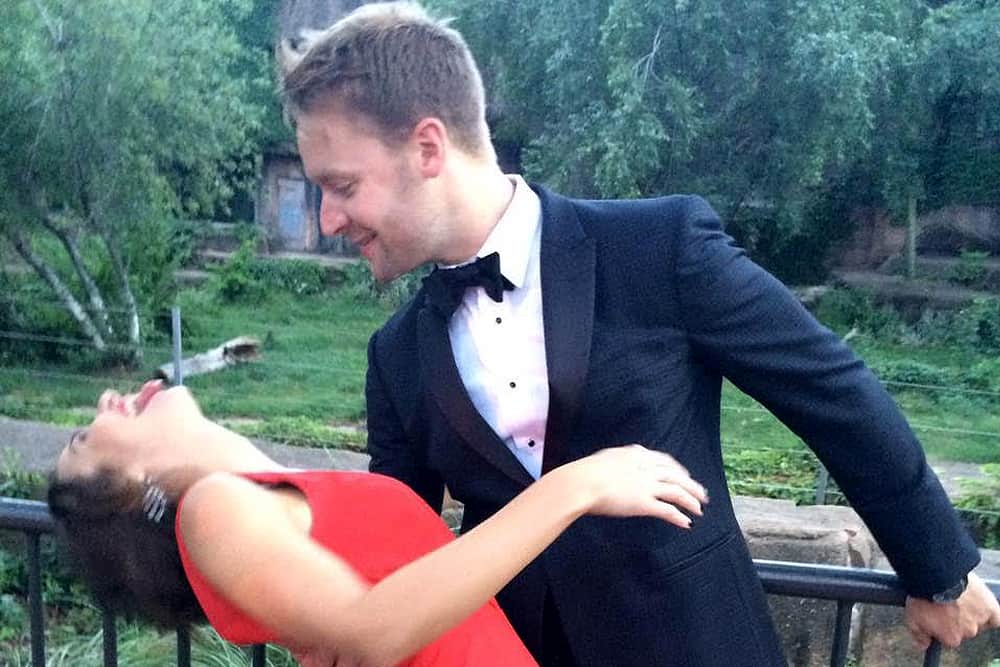 Steve Puiszis
Background: Web development and digital strategy consulting.
Why OK?: OK an amazing organization that helps my sister and others to learn and grow within a loving community. I have grown up with and been around so many of the volunteers, Warriors and staff that make up the OK community – they're all great people that I enjoy being around and want to continue helping.
Favorite OK memory: The last classic was a blast or one of the old holiday parties. Winning the chili cook off was fun. They're frankly all good memories.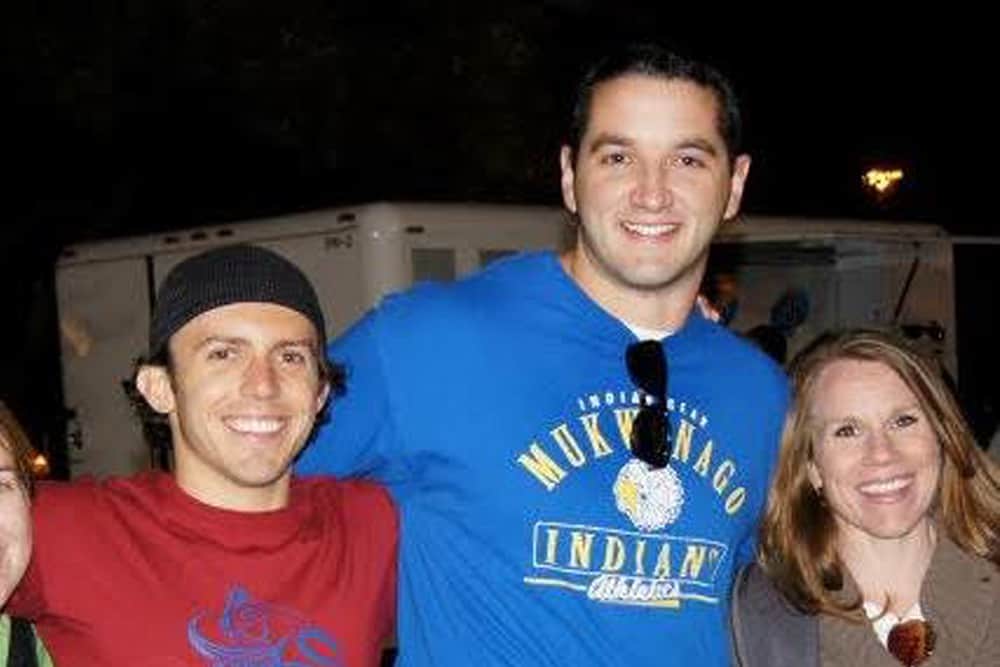 John O'Connor
Center.
Background: Consulting
Why OK?: Opportunity Knocks is an outstanding organization making a difference in our community.  I worked extensively with the TEAM and Best Buddies programs at OPRF, and it's been a privilege to remain involved with the Warriors in our post-high school days.
Favorite OK memory: Lacing 'em up for the OK Classic every year.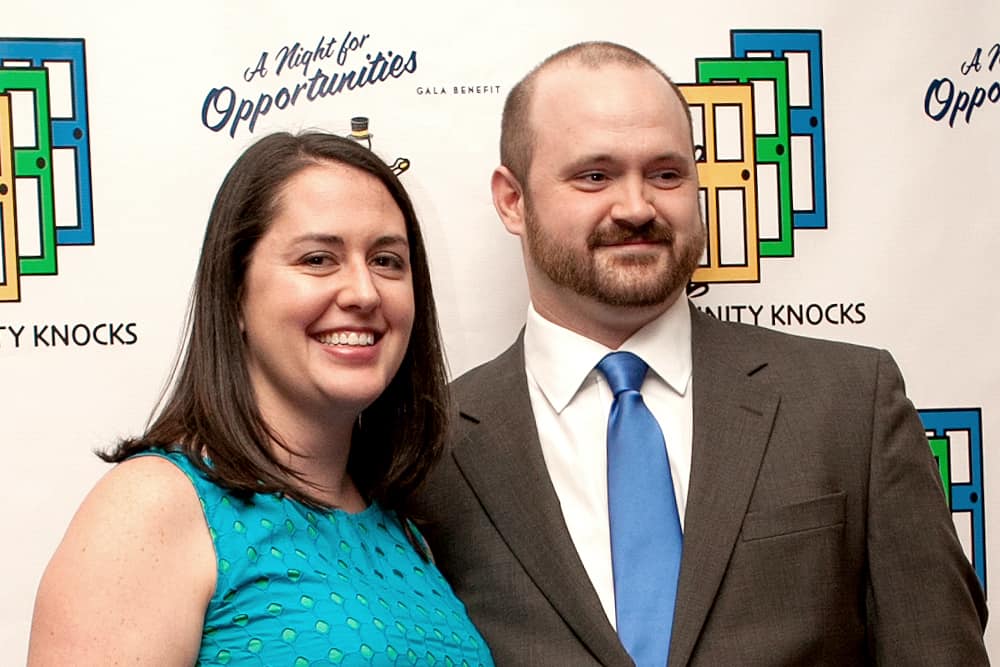 Tom Riley
On left, with Kara Flynn.
Background: Traders' Assistant at the CME
Why OK?: I believe in the OK mission and what we are trying to accomplish. It feels good to give back to these young adults in our community.
Favorite OK memory: Getting all fancied up for the Gala each year.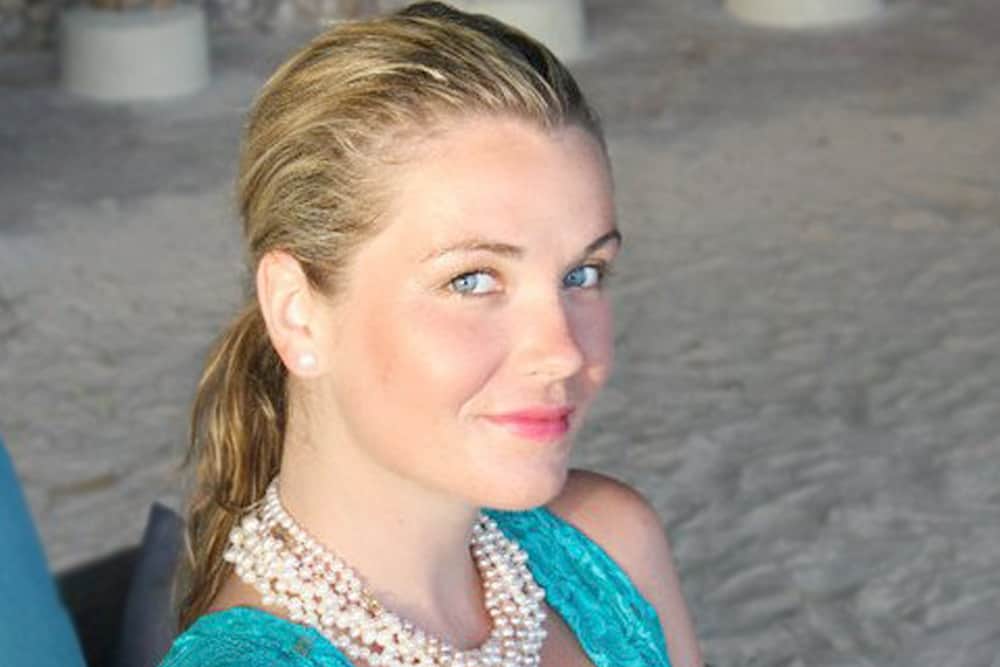 Courtney Steinberg
Why OK?: Opportunity Knocks is a truly special and unique organization; the depth and breadth in how OK impacts the Warriors and their community is unparalleled. Everyone, served by or serving with Opportunity knocks, feels the great love and commitment to the Warriors, their families, the amazing programs and to the community at large. I feel honored and blessed to be associated with such great people doing such necessary work!
Favorite OK memory: Hands down the rendition of "Teach me how to Dougie" at the 2012 Gala!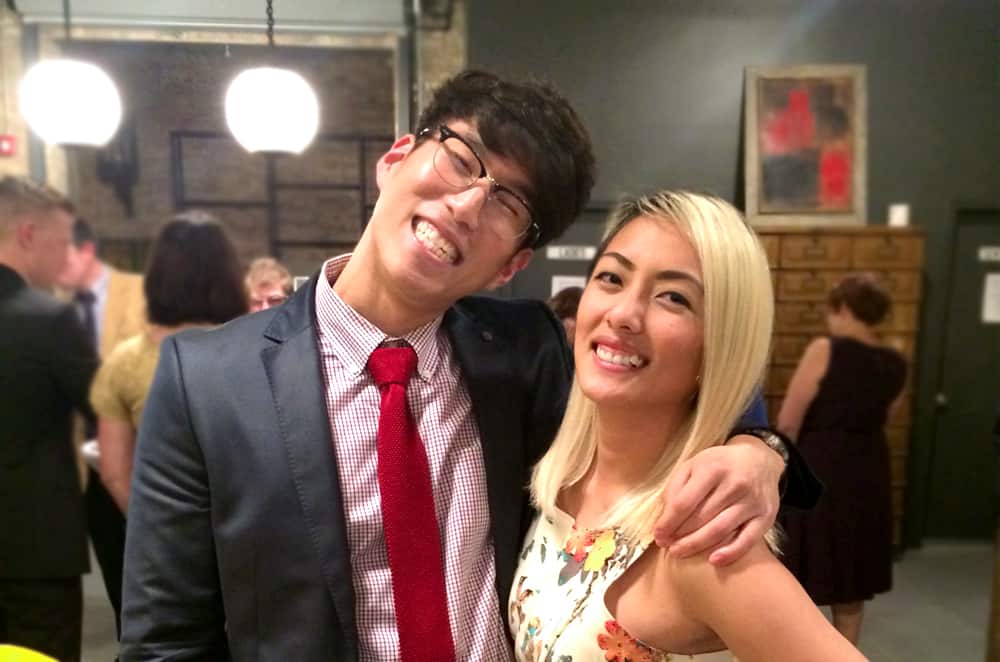 Ihwan Yoo
On left, with Desiree Rivo.
Background: Business and Finance, Consultant
Why OK?: Opportunity Knocks is a great organization with a great purpose. It offers me a chance to not only give back, but to develop personally.
Favorite OK memory: OK Classic!