Registration for Summer Session 2 is now open! See descriptions of activities being offered this session below. Please use the form on this page to register for After Opps programs. Any questions or concerns may be directed to Steve Compere, Program Director of After Opps at steve@opportunityknocksnow.org.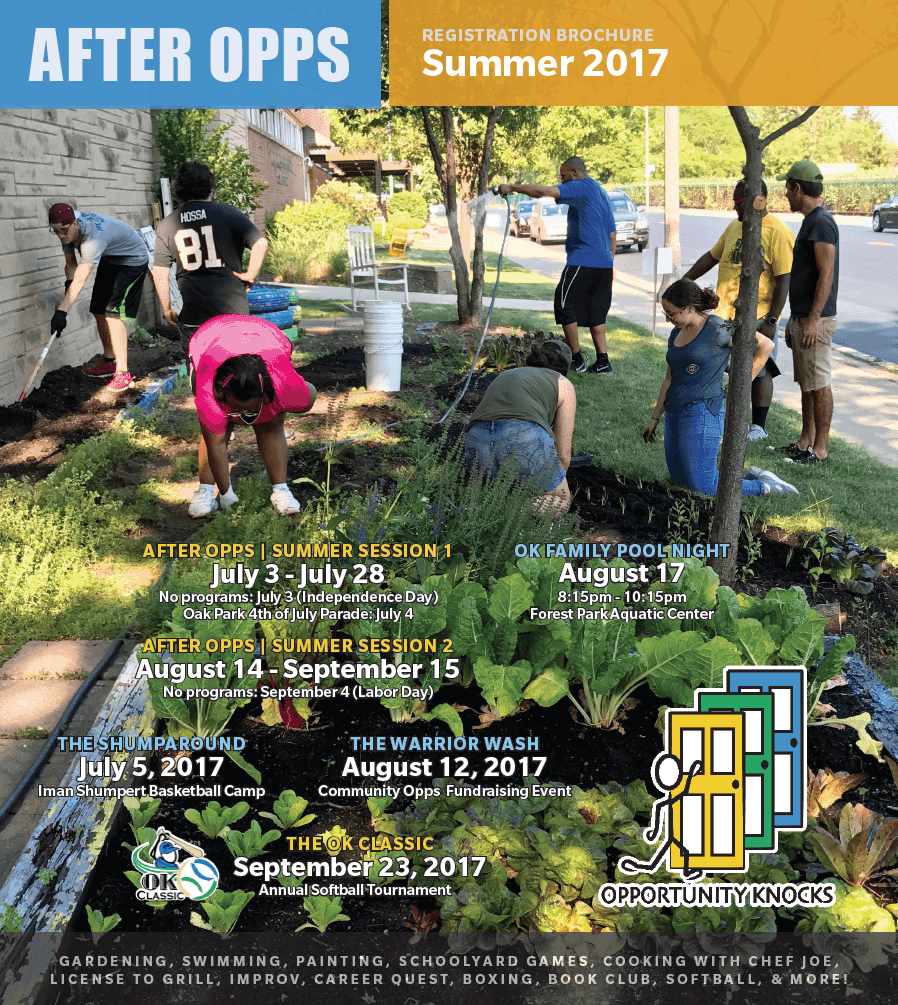 For eligibility, registration requirements, session fees, daily structure, safety requirements or other information, see the After Opps page. Please note the change in program fees, effective April 6, 2015. 
<script type="text/javascript" src="https://form.jotform.us/jsform/72075274197159"></script>

Monday Programs
GARDENING
Warriors will get their hands in the dirt maintaining the Opp Knocks Garden and farm, growing our delicious produce!
*Warrior Wellness*
BOXING
Uppercut! – Jab! – Left Hook!… Watch out Pacquiao, the Warriors are going to knock out this session by learning boxing essentials.
*Warrior Wellness*
SENSORY TOYS
Warriors will have fun making and playing with different sensory toys and games. From making things out of recycled materials, playing with sand, play dough, drums or puzzles, the fun is endless!
BOOK CLUB
This summer, the Warriors will be finding good books to read, having exciting conversations, and possibly joining the community all while in the Book Club program.
Wednesday Programs
COMMUNITY OPPS
This summer Community Opps gets ready for our annual car wash. We will be getting the word out and promoting this fundraiser while also turning t-Shirts into recycled bags to support the Frank Lloyd Wright Races. Service, learning and fun!
SCARECROW MAKING
What better way is there to end the summer season than to make your own scarecrow. Whether its for making your garden interesting or to get rid of those birds from your yard, a scarecrow is fun to create using basic things from around the house and a little imagination.
SOFTBALL
It's that time of the year again. With the OK Classic right around the corner, the warriors are going to head over to the practice field and start warming up for the OK Classic.
*Warrior Wellness*
Friday Programs
LICENSE TO GRILL
Nothing says summertime like grilling. Warriors in the License to Grill program are going to be grilling and preparing food for the OK Family Dinner.
*Warrior Wellness*
BIKES & TRIKES
New riders and experienced cyclists will experience the great outdoors on wheels!! Warriors will use bikes, trikes, and tandems to engage in fitness and learn the safety of transportation by bicycle.
*Warrior Wellness*
STAFF VS. WARRIORS
The Warriors will compete against the staff in a multitude of different activities. The Warriors will have to work together in order to defeat the staff in these activities.