So far in After Opps in 2015, we have wrapped up another fun program session and also celebrated 5 years of Opportunity Knocks!
---
Mondays
Real Life Role Play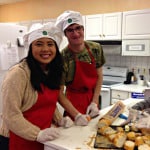 We put Warriors in real-life situations that people may find uncomfortable or worrisome and coming up with practical responses and solutions to the situation through acting. Lessons included safety, stranger danger, dating skills and more. This program was peer led by Erik Cox. The last Monday of the session, we worked in collaboration with the Trinity Volunteer Corp to prepare meals, cards and cookies for the families who were staying at the Ronald McDonald House at Loyola Hospital!
American Cultures
In this program, Warriors have been learning about the diverse cultures, elements, and people that make America great. We closed off the program by learning about Mexican-American culture! We watched a clip about the Day of the Dead, tried traditional Mexican pan dulche, and made our own Day of the Dead masks.
Indoor Sports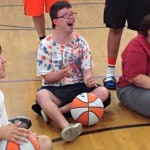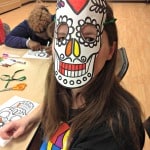 We had fun playing kickball, basketball, and trying out our new bowling set during Indoor Sports the second half of this session!
Gala Art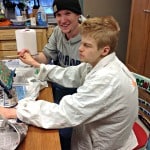 Having learned how to mix their own custom paint colors by using red, white, blue and yellow in different combinations, the Warriors have been busy continuing to create their own unique works of art! Weeks #3 and #4 the theme was painting sunrises and sunsets by Monet. The colors they came up with were incredible! The awards went to Katrina and Eric who both did a great job! The final week they painted their own rendition of photographs of wildflowers taken by the Life Shop Nature Club Warriors! Dana received the award for doing an awesome job participating! Everyone really enjoyed creating their own special pieces of artwork!!
---
Wednesdays
Community Opps
Warriors in Community Opps have been working hard on projects for the upcoming OK Gala. Warriors have been busy sanding windows, which will be used to make a few different items for the Gala Auction. The last week of the session, we wrapped up the sanding and began painting the windows which we will continue to work on next session!
Greenline Wheels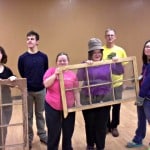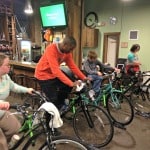 Warriors have been working hard to stay in shape despite the Chicago winter weather. Each week we visit our friends at Greenline Wheels for some awesome spin classes. All Warriors have been working really hard, but awards have gone to Joe Hines, Lorenzo, and Karisa for their efforts. "I love Greenline," said Karina Leonard. "It is my favorite thing going there. We ride bikes and it feels good. I like to listen to music and dance on the bike." Donated gift cards to Marion Street Cheese Market were also presented to Eliza Grahnke and Andre Basso, who earned the gifts for their hard work.
Punk'd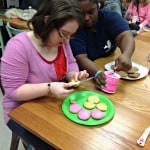 The last few weeks of session we "Punk'd" people in a nice way. We were learning the differences between a mean prank and nice prank. This was a way for the Warriors to see how you don't want to hurt someone's feelings. It was a great way for the Warriors to use their creative side by thinking of ways to do a nice prank. Our pranks involved plastic rats, fake lottery tickets, fake parking tickets, balloons, and more!
Giving Back
In this program, to combat Punk'd, Warriors will be focusing on ways to give back to others and their community. We finished making our hand knitted blankets to give to a local animal shelter, and also made Valentine's Day cookies for veterans at Hines Hospital. What better way to spread cheer than giving hot pink, heart shaped cookies to Hines?! :).
---
Fridays
Retro-Meals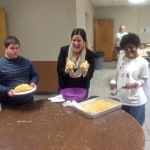 In Week 3, we recreated an old favorite: Sloppy Joe's! This was served alongside 2 different salads with chopped up veggies. In Week 4, we put a retro spin on some yummy Super Bowl Sunday snacks: pigs in a blanket, veggies and homemade dip, deviled eggs, and 2 large cheeseballs (with crackers) shaped as footballs. The group had an awesome time working in different stations to make the apps while getting in the football spirit for the big game! Week 5, we made our own double-decker Warrior club sandwiches!
Warriors Got Talent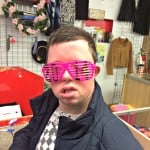 The Warriors perfected their Talent Show routines for the OK Anniversary Party on February, which was February 13th! We hit the Oak Park Salvation Army for some stage swag and ran through a dress rehearsal with the Medieval Times group. This talented bunch brought the house down with a diverse display of singing, dancing, comedy, speeches, and acting! Thank you to our celebrity judges for the evening: Val Camiletti (Val's Halla), Donnie Biggins (Harmonica Dunn, The Shams Band), and Emile Williams (The Velvet Jimis). We had a blast!
Medieval Times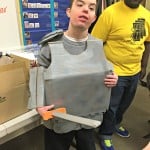 Hear ye! Hear ye! The Warriors have stepped back in time to the Middle Ages and have been practicing their jousting and dragon fighting skills!! The King, Queen, Princess, Knights, and Jester joined the festivities at OK's 5th anniversary party presenting their finest performance! They were also accompanied by a live Trumpeter, Stefan Scherer-Emunds!
Party Planning
The last few weeks we planned for the 5 year Anniversary Party. We bought the decoration items, made props and decorated the birthday cake sign!
---